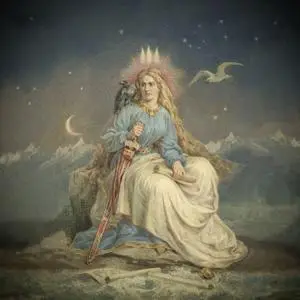 Sólstafir - Endless Twilight of Codependent Love (2020)
WEB FLAC (tracks) | 01:03:00 | 381 Mb
Progressive Rock, Post-Rock, Post-Metal | Label: Season Of Mist
Music will always be inspired by the environment in which it is created. With its incredible array of highly diverse landscapes ranging from white glaciers via volcanic bizarreness, moss-green bubble-fields, deep fjords, and frost-cracked mountains to black beaches, Iceland has shaped a host of astonishingly original in SÓLSTAFIR. More than ever, SÓLSTAFIR's new opus 'Endless Twilight of Codependent Love' highlights the contrasting influences that have inspired the band over the years. Whether you're listening to the black metal infused "Dionysus", "Her Fall From Grace", the gracious song "Til Modar" or a straightforward SÓLSTAFIR masterpiece "Akkeri", the Icelanders have mastered all these elements and blended it seamlessly into one record.
Tracklist:1.
Akkeri
(10:10)
2.
Drýsill
(08:52)
3.
Rökkur
(07:06)
4.
Her Fall from Grace
(06:35)
5.
Dionysus
(05:30)
6.
Til Moldar
(04:28)
7.
Alda Syndanna
(04:30)
8.
Ör
(06:57)
9.
Úlfur
(08:48)
–––––––––––-

DON'T MODIFY THIS FILE

–––––––––––-

PERFORMER: auCDtect Task Manager, ver. 1.6.0 RC1 build 1.6.0.1
Copyright © 2008-2010 y-soft. All rights reserved

ANALYZER: auCDtect: CD records authenticity detector, version 0.8.2
Copyright © 2004 Oleg Berngardt. All rights reserved.
Copyright © 2004 Alexander Djourik. All rights reserved.


FILE: 09 - Sólstafir - Úlfur.flac
Size: 56999623 Hash: 3D7B9AE79A4EFD5E2983D1F13D0CBA49 Accuracy: -m8
Conclusion: CDDA 99%
Signature: B3C09A0E051E65858427445B742B25C46A230BF6
FILE: 08 - Sólstafir - Ör.flac
Size: 43223333 Hash: 03096BF11156106C5575FB069A472151 Accuracy: -m8
Conclusion: CDDA 100%
Signature: 4BE2E2356B2E738917CC1555E36A369F198906B3
FILE: 07 - Sólstafir - Alda Syndanna.flac
Size: 32968280 Hash: F4C05D4A2A48B7AE8C4633390A5D4CA7 Accuracy: -m8
Conclusion: CDDA 100%
Signature: 79195C9870DDA6BDBCB349403892BB76553A40D8
FILE: 06 - Sólstafir - Til Moldar.flac
Size: 24622184 Hash: 1C711EDBCCF0FADBC5161B5D0C7423E2 Accuracy: -m8
Conclusion: CDDA 100%
Signature: 92E8668603FE357C99E6DFB05C313682C53413F7
FILE: 05 - Sólstafir - Dionysus.flac
Size: 38587644 Hash: DC3413DB5C059D1C7DF8AF3966815194 Accuracy: -m8
Conclusion: CDDA 100%
Signature: 9B6BF5A5539E93B228BEB385340E64F1BA70C8E9
FILE: 04 - Sólstafir - Her Fall from Grace.flac
Size: 39316355 Hash: 07C76663457C1A583E2C2F6F97409233 Accuracy: -m8
Conclusion: CDDA 100%
Signature: 83ACD9220E30D9DA465AEBB71E3FA35352747F03
FILE: 03 - Sólstafir - Rökkur.flac
Size: 44540788 Hash: 0C1EA08382E1AE31B910B5F2FCEFE4CD Accuracy: -m8
Conclusion: CDDA 100%
Signature: 814A00C3B1C8C49337AEE9C5CCE098EABE95F7B4
FILE: 02 - Sólstafir - Drýsill.flac
Size: 54135704 Hash: 46BA387818F04FC223E4CB20DE6313A3 Accuracy: -m8
Conclusion: CDDA 100%
Signature: CAF59ACB98027C6283ACA7D905619728A8B840C5
FILE: 01 - Sólstafir - Akkeri.flac
Size: 65009106 Hash: FECE43CA1C64F0AC5BA8357DE7DC0181 Accuracy: -m8
Conclusion: CDDA 100%
Signature: 1E74F2134319B2E6036308C896D5DE1DA31A6F3E