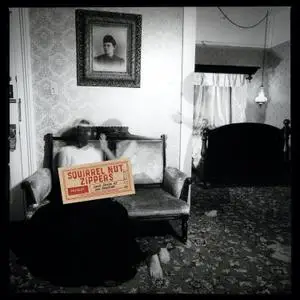 Squirrel Nut Zippers - Lost Songs of Doc Souchon (2020)
WEB FLAC (tracks) - 202 Mb | MP3 CBR 320 kbps - 80 Mb | 00:34:47
Jazz, Big Band, Retro Swing | Label: Southern Broadcasting
Since 1995, the Squirrel Nut Zippers have sacked and plundered the old, weird America then sailed off to further distant lands. They have used New Orleans as their hideout and base of operations. Jean-Lafitte-like the hide in the lee side of the barrier island, receiving goods and masking dark back-channel deals; hiding in cellars or in plain view. On September 25th, fans will be able to gaze into the tea leaves that make up their brand new album: Lost Songs of Doc Souchon to see if they can discern their own destiny. Lost Songs Of Doc Souchon follows the band's last studio album, Beasts Of Burgundy, which debuted at #4 on the Billboard Jazz Album Chart. Also, Andrew Bird makes his first appearance on a Squirrel Nut Zippers album since Perennial Favorites (1998, Mammoth). ''This new album was inspired by all of the mysterious characters from the history of New Orleans jazz music,''commented band leader Jimbo Mathus. ''It speaks to the hidden roots of where our aesthetic, interests and philosophy comes from. It pulls on the hidden thread.'' Lost Songs Of Doc Souchon contains ten new tracks, a combination of newly written Zippers material, along with a few songs from past times. The first single from the album Animule Ball was originally recorded back in 1938 by Jelly Roll Morton. In keeping with that time period, the band turned to Fleischer Studios (home of Betty Boop) to use some of their historic animations for a brand new video for the track. ''When I first started the Zippers the Max and Dave Fleischer cartoons were a huge part of our inspiration. The look, the music, all of it,'' commented Jimbo Mathus. ''So to have their blessing to use some of these characters and create something new with it is thrilling to me.'' ''Fleischer Studios has a long history of bringing together the best in music and animation, so the opportunity to continue that great tradition with a band like the Squirrel Nut Zippers, nearly 100 years after debuting the first sound cartoon in 1926, is a wonderful honor; and one that would surely put a smile on Max Fleischer's face,'' commented Jeni Mahoney. The Squirrel Nut Zippers began their musical journey in Chapel Hill, North Carolina, in the mid-1990s, as a musician's escape from the cookie-cutter world of modern rock radio at the time. Jimbo Mathus along with drummer/percussionist Chris Phillips formed the band as a casual musical foray among friends and family in the area. It wasn't long before the band's quirky mix of jazz chords, folk music, and punk rock leanings spread out of the region and attracted a national audience. Between 1995-2000 the Squirrel Nut Zippers sold over three million albums. Their watershed album, Hot (1996) was recorded in the heart of New Orleans, fueled by a smoldering mix of booze and a youthful hunger to unlock the secrets of old world jazz. This passion mixed with klezmer, blues, and random bits of contemporary musical leanings became the band's signature style. At the time, there were few other bands inhabiting this space. The album would eventually break free of any ''jazz'' stereotypes and land on commercial radio, taking the band to remarkable heights for what was essentially an anti-establishment sound.
Tracklist:
1. Animule Ball (02:30)
2. Can't Take My Eyes Off You (04:39)
3. She's Ballin' (02:27)
4. Train on Fire (04:09)
5. Mr. Wonderful (02:52)
6. I Talk to My Haircut (02:55)
7. Purim Nigrum (07:20)
8. Cookie (02:36)
9. Happy Days Are Here Again (02:44)
10. Summer Longings (02:28)
–––––––––––-

DON'T MODIFY THIS FILE

–––––––––––-

PERFORMER: auCDtect Task Manager, ver. 1.6.0 RC1 build 1.6.0.1
Copyright © 2008-2010 y-soft. All rights reserved

ANALYZER: auCDtect: CD records authenticity detector, version 0.8.2
Copyright © 2004 Oleg Berngardt. All rights reserved.
Copyright © 2004 Alexander Djourik. All rights reserved.


FILE: 10. Summer Longings.flac
Size: 12415666 Hash: 7E91946B52AA8DE7D04F74F7DF265A49 Accuracy: -m8
Conclusion: CDDA 100%
Signature: E9C22057A2D984080B474230050619839BF2DAC7
FILE: 09. Happy Days Are Here Again.flac
Size: 17297653 Hash: 411DEC72F746BEA2C0F65B94AC778A6F Accuracy: -m8
Conclusion: CDDA 100%
Signature: F8F657C08054DBCDA125461FD612E8BB2CD4768F
FILE: 08. Cookie.flac
Size: 15534862 Hash: 6E555A21C84F3E58E1048F090945297E Accuracy: -m8
Conclusion: CDDA 100%
Signature: B0211B422483B524DF4A7B1D5B0AC0BFCF69CE57
FILE: 07. Purim Nigrum.flac
Size: 48405077 Hash: 01C746C84AF95DFD8607796C787677A4 Accuracy: -m8
Conclusion: CDDA 100%
Signature: 0B049B80AD1E7CD0BD22CFBF1BBD59BDEC15C6CC
FILE: 06. I Talk to My Haircut.flac
Size: 19028062 Hash: ECEFE6E665ECF786C780F0D5468B3BBB Accuracy: -m8
Conclusion: CDDA 100%
Signature: AD92D88EEE2D28938A8B93FBB6D822B3567919CA
FILE: 05. Mr. Wonderful.flac
Size: 14211136 Hash: 196DB8C7343DCD1978FFD2DB3508CA69 Accuracy: -m8
Conclusion: CDDA 100%
Signature: F2A921D0F425020DEF6B2431A3497D19F8BC01FE
FILE: 04. Train on Fire.flac
Size: 24352689 Hash: 6621ADF859A7A7B34A0CF86F1B12F793 Accuracy: -m8
Conclusion: CDDA 99%
Signature: ED6789CFBE51077DE7B83FC50492023CCD960EEC
FILE: 03. She's Ballin'.flac
Size: 16076965 Hash: B16068370BCD354F6F731A3C77A22CA8 Accuracy: -m8
Conclusion: CDDA 100%
Signature: 1D3F187A97BB634B837FCFCF207E0654E28F085F
FILE: 02. Can't Take My Eyes Off You.flac
Size: 29480069 Hash: CAC832ABDF0189BFA331564C13672972 Accuracy: -m8
Conclusion: CDDA 100%
Signature: AAE779CE265CE3C84600B148420B20200BA39B3C
FILE: 01. Animule Ball.flac
Size: 14704891 Hash: CE283DEB9BBB5F5B086D4053960DA71F Accuracy: -m8
Conclusion: CDDA 100%
Signature: 15CF60E9EF41EBCD72551B44B9D0463A4BB014CC