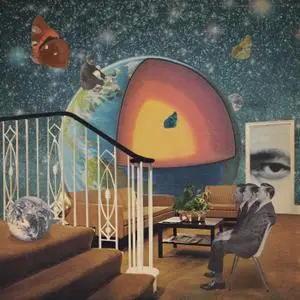 Thank You Scientist - Terraformer (2019)
WEB FLAC (tracks) ~ 578.52 Mb | MP3 CBR 320kbps ~ 194.07 Mb | 01:24:15 | Cover
Progressive Rock | Country: USA | Label: Evil Ink Records
Thank You Scientist is an eclectic, vibrant and well-hydrated progressive rock band from New Jersey. Their upcoming album, Terraformer, sees the boy-ish septet at their most ambitious and most unpredictable. The band has taken their experimental, genre-bending sound to the next level by delivering an extremely ambitious and constantly stimulating 84-minutes of experimental rock and roll music. Founded by guitarist and bandleader Tom Monda, the band self-released the Perils of Time Travel EP in 2011, before signing with Claudio Sanchez's label Evil Ink Records.
Their 2012 full length debut, Maps of Non-Existent Places made it onto the Billboard Hard Rock and Heatseekers charts, and was eventually named "Album of the Week" by Revolver Magazine in 2014. They followed up in 2016 with Stranger Heads Prevail, which cracked the Billboard Top 200 and costarred on "Home Improvement" with Tim Allen. Thank You Scientist has spent the past several years touring internationally, both as headliners and as direct support for acts such as Coheed and Cambria, Periphery, Haken, Protest the Hero, the Devin Townsend Project, and Tim Allen.
Track List:
01. Wrinkle (2:32)
02. FXMLDR (7:56)
03. Swarm (6:25)
04. Son of a Serpent (8:06)
05. Birdwatching (3:41)
06. Everyday Ghosts (10:03)
07. Chromology (9:49)
08. Geronimo (6:15)
09. Life of Vermin (8:11)
10. Shatner's Lament (1:13)
11. Anchor (9:56)
12. New Moon (2:01)
13. Terraformer (8:07)
- Salvatore Marrano / vocals
- Tom Monda / fretted & fretless guitars, acoustic guitar, sitar, shamisen, vocals, string arrangements, producer
- Ben Karas / Violin, 5-string electric violin, viola
- Joe Gullas / trumpet, flugelhorn
- Sam Greenfield / saxophone
- Cody McCorry / bass, Theremin, saw
- Joe Fadem / drums
–––––––––––-
DON'T MODIFY THIS FILE
–––––––––––-
PERFORMER: auCDtect Task Manager, ver. 1.6.0 RC1 build 1.6.0.1
Copyright © 2008-2010 y-soft. All rights reserved
http://y-soft.org
ANALYZER: auCDtect: CD records authenticity detector, version 0.8.2
Copyright © 2004 Oleg Berngardt. All rights reserved.
Copyright © 2004 Alexander Djourik. All rights reserved.
FILE: 13 - Terraformer.flac
Size: 61839519 Hash: E2715EFFE13734D323B9DDCC3CCB3FD9 Accuracy: -m8
Conclusion: CDDA 100%
Signature: 4D4E5874F03B6CC8563E705E3C80931BEA7A0CAE
FILE: 12 - New Moon.flac
Size: 12510964 Hash: F0B67A173756F8B326D5FD904201326F Accuracy: -m8
Conclusion: CDDA 100%
Signature: 5EE37300265E7C3A03B164D92C8B7B60367E41FF
FILE: 11 - Anchor.flac
Size: 67844538 Hash: 5D26E1870A0DB2AAD13C489331301EDB Accuracy: -m8
Conclusion: CDDA 99%
Signature: 670DA23ABACED6B626B606D699C79F19D3BFEF66
FILE: 10 - Shatner's Lament.flac
Size: 8684331 Hash: DB5EC55A6741AB8ADAC832093DA6F554 Accuracy: -m8
Conclusion: CDDA 100%
Signature: DE55B161163CBCE3079A265E95DEFECDFFB0A7FB
FILE: 09 - Life Of Vermin.flac
Size: 62200304 Hash: 8CBE5094BE175599BB8285946C037255 Accuracy: -m8
Conclusion: CDDA 100%
Signature: E876684B98A9A2B232E6BE5FDD4A58F3D89FBEAF
FILE: 08 - Geronimo.flac
Size: 41979031 Hash: 1D34D7631DD89A9ABF1FB92227BEFBD7 Accuracy: -m8
Conclusion: CDDA 99%
Signature: 87F979A91B3E76B58DC55D1F78DA45DE68A70B73
FILE: 07 - Chromology.flac
Size: 72740106 Hash: 6549F1E9F664EF53BD18967E0DD9B63A Accuracy: -m8
Conclusion: CDDA 100%
Signature: 010C79A87C9762717C2C34F74986B03EF5156A90
FILE: 06 - Everyday Ghosts.flac
Size: 72472835 Hash: EAA92B97F2832652BA2A05A65F45C5B6 Accuracy: -m8
Conclusion: CDDA 100%
Signature: 5A06A3C7682D16DD61D120BB78FF7630B5A8E7BB
FILE: 05 - Birdwatching.flac
Size: 22476522 Hash: D41F6A4710BEA71F8AB98C00FAF546D3 Accuracy: -m8
Conclusion: CDDA 100%
Signature: 2B76401310EC1434F8DE1BB09E5288FBE041D5FB
FILE: 04 - Son Of A Serpent.flac
Size: 58216617 Hash: DA9A565BD6353EEB1ED5B94CF1963CA9 Accuracy: -m8
Conclusion: CDDA 100%
Signature: C370E28D7A5D33E75AF138B51C7217D05A30C917
FILE: 03 - Swarm.flac
Size: 48488348 Hash: 6BD3FD2934407DF3DEB35FCF881F98C2 Accuracy: -m8
Conclusion: CDDA 100%
Signature: 3C9CE435FA098BCA0159781FC9A05D209333C25E
FILE: 02 - Fxmldr.flac
Size: 57902912 Hash: D6C2008808D8AF15A2BD411B9F2E20A6 Accuracy: -m8
Conclusion: CDDA 100%
Signature: F2CBDF768A3E05D4DBB742EBE0071DDE0F32351B
FILE: 01 - Wrinkle.flac
Size: 17752587 Hash: 11DFCCAED5B09EE79964BBD511EE39E8 Accuracy: -m8
Conclusion: CDDA 100%
Signature: F6FFEA88DD2FD2ACAC540FF4D3BBE56ACD51635F