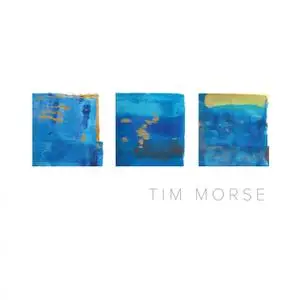 Tim Morse - III (2018)
WEB FLAC (tracks) ~ 296.80 Mb | MP3 CBR 320kbps ~ 104.11 Mb | 45:21 | Cover
Progressive Rock | Country: USA | Label: Cymbalick Music
As a solo artist it is safe to say that Tim is not the most prolific around, but since his last album, 2012's 'Faithscience', he became a member of the Jerry Jennings band and formed The Mangoes with Bret Bingham. Mind you, given it was seven years between his debut and his second, and only six years to this one, possibly we only have to wait until 2023 for the next one. I have both his earlier albums in my collection, and at one time was in regular contact with Mark Dean who had a major part to play with the debut as well as quite a lot in the second, but I note he is not nearly as involved this time (just one guitar solo). Neither is David Ragsdale, who guested on both of those, but although Tim initially wanted this to be a pure solo album he realised he was missing the input of others so again has used plenty of guests.
When the writing was finished Tim decided that it was essential to record on as much vintage gear as possible ? Hammond organ, Fender Rhodes electric piano, Mini-Moog, and Mellotron samples. He spent a day at the Oakland Vintage Synthesizer Museum tracking songs with all kinds of analogue synthesizer goodness (including the mighty Moog Taurus Bass pedals). Says Tim, "On this recording I wanted to find the right balance between structure and improvisation. Of course, all of my solos were improvised (most of them are first takes done on the original demos), but even parts that might seem structured were done one pass on the fly. I believe that adds a vital feel to the music. I also kept a lot of scratch tracks where some precision may be sacrificed because the feel of the music was right."
This is a solid enjoyable rock album with prog and pop tendencies, and while none of the songs really stand out, it is still fun to listen to. In many ways it is a direction continuation of the last one, which also had a similar feel in that while not totally essential, it is a songs-based album with pleasant vocals and can be easily enjoyed. ~
Review by kev rowland
Track List:
01. Wake Up [00:05:43]
02. Labyrinth [00:11:31]
03. The Marquis [00:03:29]
04. The Path [00:09:03]
05. The Mary Celeste [00:05:20]
06. My Ally [00:04:02]
07. Circle/Talisman [00:06:11]
- Tim Morse / keyboards, guitars, bass, drums (3,6), vocals
With:
- Jerry Jennings / guitar (lead 5)
- Mark Dean / guitar solo (2)
- Kurt Shiflet / guitar solo (4)
- Bret Bingham / mandolin, guitar (6), backing vocals
- Oisin Mcauley / violin (5)
- Jay Leek / fretted (1) & fretless (5) basses
- Andrew Glasmacher / drums
- Dave Haddad / drums (4)
- Hope Rogers / backing vocals
- Arlene Wilson / spoken voice
–––––––––––-
DON'T MODIFY THIS FILE
–––––––––––-
PERFORMER: auCDtect Task Manager, ver. 1.6.0 RC1 build 1.6.0.1
Copyright © 2008-2010 y-soft. All rights reserved
http://y-soft.org
ANALYZER: auCDtect: CD records authenticity detector, version 0.8.2
Copyright © 2004 Oleg Berngardt. All rights reserved.
Copyright © 2004 Alexander Djourik. All rights reserved.
FILE: Tim Morse - III - 07 Circle-Talisman.flac
Size: 41815574 Hash: EAF46FA47B8512D517AA22B894BE9914 Accuracy: -m0
Conclusion: CDDA 100%
Signature: F4848DF615BA219F4114C279D85C0787AB07B812
FILE: Tim Morse - III - 06 My Ally.flac
Size: 28171595 Hash: CD6EABDC2DC007B29E143D737784ACD9 Accuracy: -m0
Conclusion: CDDA 99%
Signature: 8051D63D851888A130257C545DA07A9656A7C66F
FILE: Tim Morse - III - 05 The Mary Celeste.flac
Size: 34249943 Hash: A6FAD2A2C773F1191C97F3B96B372A5A Accuracy: -m0
Conclusion: CDDA 99%
Signature: 177FBF753006AD66365686ACB512799E9B85106B
FILE: Tim Morse - III - 04 The Path.flac
Size: 66381994 Hash: 631836199FE1E067A6E5763D58475744 Accuracy: -m0
Conclusion: CDDA 100%
Signature: 4BD18ECAA29494B50436F3BF64F024952345CFDF
FILE: Tim Morse - III - 03 The Marquis.flac
Size: 20729760 Hash: 42FEB7390B54322C000109FD8339871D Accuracy: -m0
Conclusion: CDDA 100%
Signature: 90CB889C2A42EFCD884E546C49D7E0B72BC873DC
FILE: Tim Morse - III - 02 Labyrinth.flac
Size: 79717124 Hash: 0F0B1B72D48D3906D4C8C04FD9E08681 Accuracy: -m0
Conclusion: CDDA 100%
Signature: 47BE736F51663488CCDEE7C1FF78D47E3D79195A
FILE: Tim Morse - III - 01 Wake Up.flac
Size: 38694282 Hash: CCC5E4269108052FE30672CC899B2D65 Accuracy: -m0
Conclusion: CDDA 100%
Signature: 258207AF68053B849576DD30F20507DC8EA6F285
All thanks go to the verbiya