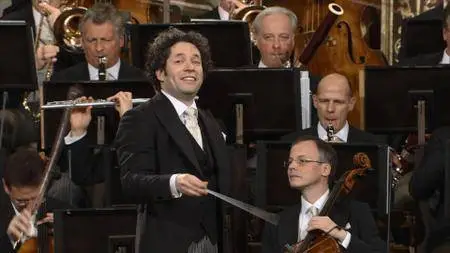 Vienna Philharmonic - New Year's Concert 2017 [HDTV 1080i]
AVC, 1920x1080i (16:9), 17.1 mbps, 25 fps | DTS HD-MA / Core, 48.0 KHz, 6 ch, 3 622 Kbps / 1 510 Kbps | 02:35:48 | 23.4 GB
Classical, Orchestral, Chorus | HDTV->MKV
It has long been a Philharmonic tradition at the New Year to present a program consisting of the lively and at the same time nostalgic music from the vast repertoire of the family of Johann Strauss and its contemporaries. These concerts not only delight the audiences in the Musikverein in Vienna, but also enjoy great international popularity through the worldwide television broadcast, which now reaches over 90 countries.
Tracklist:
Part I
♫Franz Lehár
Nechledil Marsch aus der Operette Wiener Frauen
♫Franz Émile Waldteufel
Les Patineurs. Walzer, op. 183
♫Franz Johann Strauss, Jr.
S' gibt nur a Kaiserstadt,s' gibt nur a Wien. Polka, op. 291
♫Franz Josef Strauss
Winterlust. Polka (schnell), op. 121
♫Franz Johann Strauss, Jr.
Mephistos Höllenrufe. Walzer, op. 101
So ängstlich sind wir nicht! Schnell-Polka, op. 413
Part II
♫ Franz von Suppé
Ouvertüre zu Pique Dame
♫ Carl Michael Ziehrer
Hereinspaziert! Walzer aus der Operette "Der Schätzmeister", op. 518
♫ Otto Nicolai
Die lustigen Weiber von Windsor (The Merry Wives of Windsor), Moon Choir
♫ Johann Strauss, Jr.
Pepita-Polka, op. 138
Rotunde-Quadrille, op. 360
Die Extravaganten. Walzer, op. 205
♫ Johann Strauss, sen.
Indianer-Galopp. op. 111
♫ Josef Strauss
Die Nasswalderin. Polka mazur,op. 267
♫ Johann Strauss, Jr.
Auf zum Tanze! Polka schnell, op. 436
Tausend und eine Nacht. Walzer nach Motiven der Operette "Indigo"
Performers:
Conductor - Gustavo Dudamel
Orchestra - Wiener Philharmoniker
Chorus - Singverein der Gesellschaft der Musikfreunde in Wien