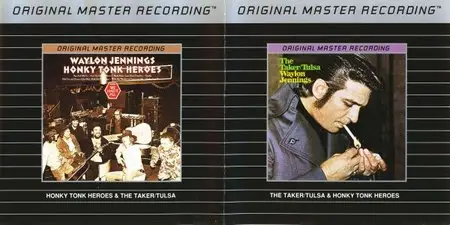 Waylon Jennings - The Taker / Tulsa (1971) + Honky Tonk Heroes (1973) [MFSL MFCD 779, 1990] |re-up|
Country | EAC rip | FLAC: IMG+CUE+LOG -> 287 MB | mp3 (VBR V0) -> 111 MB
56:59 min | Artwork | 3% recovery | NF&FF | Mobile Fidelity MFSL MFCD 779
AMG review by Sean Westergaard:
Two of Waylon Jennings' very best albums, The Taker/Tulsa (1970) and Honky Tonk Heroes (1973), both released by RCA, were combined onto a single compact disc by Mobile Fidelity. This was a great way to pick up these classic albums, but the Mobile Fidelity release has gone out of print.
"The Taker/Tulsa" AMG review by Thom Jurek:
Excellent in composition, production, and sequencing, The Taker/Tulsa stands the test of time as the first recording by Waylon Jennings to show what it was he had been crucifying Nash Vegas producers over. The end of his long production relationship with Chet Atkins (as Atkins was moved upstairs), his hostile, barely a year tenure with Atkins pick Danny Davis, a successful run with Lee Hazlewood that the establishment on Music Row disowned because it wasn't homegrown, and the final straw with Atkins protégé Ronnie Light ultimately led Waylon to hire a new lawyer and manager and begin producing himself. The Taker/Tulsa is chock-full of Kris Kristofferson's songs. Mickey Newbury brought Kristofferson to Jennings' attention a couple of years earlier, but this time out, Jennings decided to theme his recording and showcase Kristofferson's songs. The result – despite the fact that the record was culled from over two years of work with Davis and Light – is the first real salvo in the outlaw movement (not Ladies Love Outlaws, which was full of demo sessions and unfinished tracks). Kristofferson's tunes, including "Loving Her Was Easier," "Sunday Morning Coming Down," "Casey's Last Ride," and others, brought Jennings closer than ever to the flame, to the dream of producing his own records with his own band. The Kristofferson tunes stand out, but so does "Tulsa" by Wayne Carson Thompson and Jennings' own "You'll Look for Me." The albums dovetails together like one session and offers a view of what Waylon could issue when he got his way. This is one of Jennings' true classics, and with Lonesome, On'ry and Mean still a year away. It was the first unruly outing by a man who, along with his friends, was about to change everything.
"Honky Tonk Heroes" AMG review by Stephen Thomas Erlewine:
When Waylon Jennings hooked up with songwriter Billy Joe Shaver, he found the perfect author for his obsessions, his fascinations, and his very image. Waylon had always been looking, perhaps unintentionally, for a common ground between country and rock, and Shaver's songs — sketching an outlaw stance with near defiance and borrowing rock attitude to create the hardest country tunes imaginable — were perfect. On his previous album, Waylon had sung that "ladies love outlaws," but now he found the music that would soon be called outlaw country, a defiant, ballsy blend of mythmaking and truth-telling. Shaver never had a better voice for his songs, and Jennings never had better songs for his style. Honky Tonk Heroes arrived at a crucial moment, a time when true honky tonk was fading, so only a dose of rock & roll could save it. And, no matter how much rock attitude is here, this is pure country in its stance and attitude — yet Honky Tonk Heroes' very defiance makes it a perfect discovery album for listeners who never thought they would like country music. And the songs! Shaver earned his stripes here, with songs that were emotional, funny, and clever, utterly bringing the mythic outlaw ethic to life. "Black Rose," "You Asked Me To," and "Honky Tonk Heroes" remain among the greatest things Waylon ever cut, and every other song here matches them. Few country albums have ever been this consistent, and few records, from any genre, have been as consistently compelling. A wonderful album — one that's hard to tire of.
Tracklist:
The Taker/Tulsa:
01 The Taker (02:29)
02 You'll Look For Me (02:03)
03 Mississippi Woman (02:56)
04 Lovin' Her Was Easier (Than Anything I'll Ever Do Again) (03:06)
05 Six White Horses (02:42)
06 (Don't Let The Sun Set On You) Tulsa (03:09)
07 Casey's Last Ride (04:01)
08 (I'd Be) A Legend In My Time (02:21)
09 Sunday Mornin' Comin' Down (03:54)
10 Grey Eyes You Know (02:34)
Honky Tonk Heroes:
11 Honky Tonk Heroes (03:40)
12 Old Five And Dimers (Like Me) (03:10)
13 Willy The Wandering Gypsy And Me (03:06)
14 Low Down Freedom (02:25)
15 Omaha (02:42)
16 You Ask Me To (02:35)
17 Ride Me Down Easy (02:42)
18 Ain't No God In Mexico (02:04)
19 Black Rose (02:33)
20 We Had It All (02:46)
EAC Auslese-Logdatei vom 1. August 2006, 11:35 für CD
Waylon Jennings / The Taker/Tulsa/Honky Tonk Heroes

Benutztes Laufwerk : _NEC DVD_RW ND-4550A Adapter: 0 ID: 1
Lesemodus : Sicher mit KEINEM C2, Accurate Stream, Puffer abgeschaltet
Leseoffset Korrektur : 48
Überlesen in das Lead-In und Lead-Out : Nein

Benutztes Ausgabeformat : Interne WAV Routinen
44.100 Hz; 16 Bit; Stereo

Andere Einstellungen :
Fülle fehlende Offsetsample mit Stille auf : Ja
Lösche führende und nachfolgende stille Blöcke : Nein
Installierte externe ASPI Schnittstelle


Bereichsstatus und Fehler
Gewählter Bereich
Dateiname F:\_x\Waylon Jennings - The Taker_Tulsa & Honky Tonk Heroes\CDImage.wav

Spitzenpegel 73.4 %
Bereichsqualität 100.0 %
CRC 7A5A1D9D
Kopie OK

Keine Fehler aufgetreten

Ende des Statusreports



Not my rip!
Big thanks to original ripper and uploader!!
************ download ************