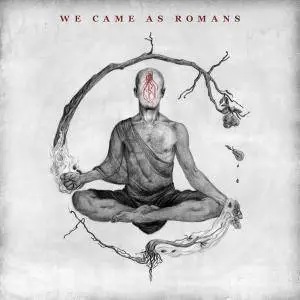 We Came as Romans - We Came as Romans (2015)
MP3 CBR 320kbps | 00:33:33 | 78.10 Mb
Post-Hardcore, Alternative Rock | Country: USA | Label: Equal Vision
We Came as Romans is the self-titled fourth studio album by American post-hardcore band We Came as Romans. It was released on July 24, 2015 through Equal Vision Records. As with Tracing Back Roots, the album continues to see a departure of the band's metalcore sound found in their previous albums, in favor of an alternative rock sound. The album's first single, "The World I Used to Know", was released on May 26, 2015. This is the last album to feature long time drummer Eric Choi before his departure from the band in early October 2016. The album sold 22,600 copies in its first week, being considered a solid release despite selling less than their 2013 record, Tracing Back Roots, that sold over 26,500 copies in its debut week.
We Came as Romans received mixed reviews from critics and fans, mostly because of their departure from the metalcore sound from their previous albums. According to Kill Your Stereo, the band continues to "grow out of their heavier metalcore roots and move towards a more alternative metal, melodic direction" with their self-titled album featuring a "more mature" sound. Awarding the album four stars from Alternative Press, Mischa Pearlman states, "The 10 songs are full of catchy hooks that aren't full-on pop, but aren't too far off, either … We Came As Romans lends weight to the glossy sheen of songs that might otherwise be dismissed as too slick and too superficial."
CrypticRock awarded the album a score of 3.5/5, stating that "all in all, We Came As Romans is a decent album. Geared toward broadening their horizons, the album displays many changes to the style of the band. While fans of their previous work may be a little unsure of the new direction, it is still worth a listen to perhaps expand their own horizons."
A scathing review from New Noise Magazine stated that "having two standout tracks is never enough to carry an entire album. Had We Came As Romans followed the pathways they had set up for themselves with "Tear It Down" and "12:30" this record may have stood out more and not reflected a plethora of lazy, commercial song writing." Further negative comments stemmed from the perceived poor lyricism, with the review stating that "Tracks like "Memories" feel bland and uninspired with sustained clean vocals, early 2000s alt rock riffs, and forgettable lyrics like "There's nothing stopping you and me from making all these memories." In fact, there are moments on this album where I actually wanted to throw the record out of the window, had it not been a digital download."
David Stephens
– vocals, lead vocals on tracks 1, 5 and 8
Kyle Pavone
– vocals, keyboards, piano, synthesizer
Joshua Moore
– lead guitar, backing vocals
Lou Cotton
– rhythm guitar
Andy Glass
– bass guitar, backing vocals
Eric Choi
– drums
Track List:
01. Regenerate
02. Who Will Pray?
03. The World I Used to Know
04. Memories
05. Tear It Down
06. Blur
07. Savior of the Week
08. Flatline
09. Defiance
10. 12:30