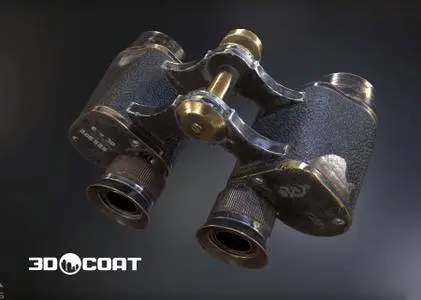 3D Coat 4.8.06 beta | 789.9 mb
Pilgway has released an updated (version 4.8.06) 3D-Coat, is the one application that has all the tools you need to take your 3D idea from a block of digital clay all the way to a production ready, fully textured organic or hard surface model.
Changes 4.8.05(06) (beta):5.12.2017 4.8.06
- Fixed problems of Lathe tool (inability to move points)
- Added "Preferences > Tablet Library" selection between "WinTab" and "TabletPC"
- A lot of polishing in primitives (bolts etc)
- New Curves are much more functional now. Still a lot of work there. Find it in Preferences->ShowNewCurves, then enable spline lasso mode in E panel. Look also RMB menu over newely created curves.
24.11.2017 4.8.05
- Correct FBX export/import. Nodes hierarchy, transforms, pivots will be preserved.
- Fixed normal sampling and picking position for non-current object in clay/flaltten and similar tools.
- Fixed problem of Vox Clay with CTRL (was vanishing whole object)
- Fixed Scratches2 brush (it was unsafe, making random holes etc)
- Correct Constructor tool snapping.
- Correct usage of current color in Smart materials. Current color will be stored in attached materials as well.
- A lot of polishing in Primitives, many bugs and inconsitencies fixed.
- A lot of time was spent on updating curves, it is not finished, so not exposed in this build. You may alphatest it, enable Edit -> Prefereces-> ShowNewCurves, restart 3D-Coat. Keep attention, it is alpha version, many things are non-functional. Press E and select Lasso of splines.
About 3D-Coat.
3D-Coat software from Pilgway is used primarily in the production of 3D models for computer games, but also in related fields such as film and entertainment. The software is on the cutting edge of 3D graphics.
About Pilgway.
Pilgway, an international company at the forefront of 3D technology, is investing in academic game development worldwide with its innovative 3D software.
Product:
3D-Coat
Version:
4.8.06 beta
Supported Architectures:
x64
Website Home Page :
https://3dcoat.com/
Language:
multilanguage
System Requirements:
PC
Supported Operating Systems:
Windows Vista and above
Size:
789.9 mb
Please visit my blog
Added by 3% of the overall size of the archive of information for the restoration
No mirrors please