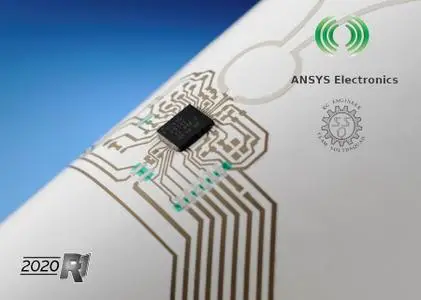 ANSYS Electronics Suite 2020 R1 Linux | 8.1 Gb
ANSYS Inc. has announced the availability of the 2020 R1 edition of its ANSYS Electronics Suite of electronics and electromagnetics simulation software solutions.
ANSYS Electronics Products 2020 R1 - Release Notes:Icepak Release Notes
ANSYS Icepak 2020 R1 is a release of ANSYS Icepak that has new features and resolved issues and lim-itations.
New and Modified Features in ANSYS Icepak 2020 R1 Import/Export
– Added the option to import dummy nets when importing OBD++ trace files.
Meshing
– Added the ability for the solver to apply corrections for skewed meshes.
– Added ability to sort mesh elements by group when reusing externally generated mesh per object.
Project Tree
– Added ability to sync the object selection tree with the model tree.
General Electronics Desktop
- New Electronics Pro, Premium, Enterprise product licensing.
- ANSYS Cloud workflow improvements including new machine configurations.
- Official release of Tau Flex meshing.
HFSS
- SBR+Creeping Wave physics for installed antenna modeling.
- Enhanced workflow for Antenna Array DDM with 3D Components (Beta).
- Template Projects and 3D Components for EMI/EMC applications.
- Selective object and face storage for FEM 3D Fields.
- Overlay of near field contour plots in modeler window.
- H field and Poynting vector export for near field data.
- Face Coordinate System on SBR+ lightweight geometry.
- Circuit elements in 3D Components.
- Parameterized SBR+ antenna components.
- Accuracy control for Integral Equation solver.
- Characteristic mode coefficients from HFSS-IE CMA solver.
- Enhanced lumped port solver for low frequency results (Beta).
- Enhanced adaptive meshing routine for Hybrid full-wave solver (Beta).
- Next generation Iterative Solver (Beta).
- Optimized solver performance for circuit port only simulations (Beta).
HFSS 3D Layout
- Native support for HFSS 3D Components (Beta).
- Improved capacity and usability of ECADXplorer (Beta).
- Support formulti-zone PCB designs (Beta).
- Distributed region solves for HFSS Regions in SIwave.
- Field plots for SIwave DC solutions.
- Support for surface roughness in Icepak two-way coupling.
- Enhanced lumped port solver for low frequency results (Beta).
- Optimized solver performance for circuit port only simulations (Beta).
SIwave
- New EMI Xplorer integrated workflow for EMI design rule checking.
- Support for spatially dependent stack-ups.
- Ability to launch CMA from the SIwave user interface.
- Stackup wizard usability enhancements.
- Advanced coupling detection for SYZ solve (Beta).
- Thermal coupling using Icepak in Electronics Desktop (Beta).
Maxwell
- Ability to include windings in 3D Components.
- Volumetric harmonic force coupling with ANSYS Mechanical.
- Multi-level series and parallel grouping for L and R in Eddy solutions.
- New partial mesh and simulation from full rotational machine model (Beta).
- Support for Litz wire modeling in Eddy solvers.
- Support for object-based harmonic force with multi-slice 2D models.
- New field plots of harmonic force for Transient solutions.
- Ability to plot demagnetization coefficient for Magnetic solutions.
- Electric machine toolkit enhancements, new machine types.
- New Maxwell 3D Transient solver based on A-Phi (Beta).
- Updated Granta Materials Data for Simulation: core loss coefficients added.
Icepak
- Commercial release of Transient Thermal solution type.
- Now available on ANSYS Cloud for HPC solutions.
- Part-by-part meshing for efficient simulation of conduction-only models (beta).
- Lightweight geometry for imported STL objects.
- Ability to create parameters for Fan, Heatsink, and PCB components.
- Visualization of mapped EM Loss from HFSS 3D Layout.
- PCB component workflow improvements.
- New Moving Reference Frame for simulationoffans.
- Support for automation through toolkits.
Mechanical (Beta)
- Support for 3D Component creation and use.
Q3D Extractor
- New ANSYS Prime Remeshing feature (Beta).
- Solver performance and robustness improvements.
Circuit
- Frequency variable change from F to Freq, consistent with HFSS.
- New option for Duty Cycle in spread spectrum clock components.
- Improved DC accuracy of S-parameter state-space fitting.
- Enhanced PSPICE model support.
EMIT (Beta)
- Auto-place of components, and other usability enhancements.
- New 5G Tx/Rx library models for both User Equipment and Base Stations.
- Enhanced workflows for coupling configuration and viewing.

Twin Builder

Digital Twin/Export
- Number of enhancements to make export workflow more stable and improve performance.
- Support for Encryption/Decryption.
- Ability to store large FMUs as external files outside the project.
ROMs
- Enhanced Static ROM builder Interface.
- General ROM Viewer.
- New engine for Dynamic ROM Builder.
- Apps for easier ROM generation.
Solver and Performance Improvements
- Number of enhancements and bug fixes.
- Support HDF5 export format for both Twin Builderand Twin SDK.
- Input for data acceleration for Datapairs.
Modelica Enhancements
- Diagram Viewer for sub-systems to explore internal structure.
- Ability to rename Modelica model after cloning.
- General usability and performance enhancements.
- Dynamic Plot update capacity/performance improvements.
- Change Intrinsic Var F to "Freq" in Twin Builder.
Electrification Toolkits
- Number of enhancements in ECM toolkit.
- Examples for Induction Motor Drive system.
This file (
WhatsNewInElectronics.pdf.rar
) lists all the new and updated features and also bug fixes that are available in 2020 R1 release.
ANSYS Electronics Desktop is a comprehensive platform
that enables electrical engineers to design and simulate various electrical, electronic and electromagnetic components, devices and systems. It is a unified interface which creates and analyzes electromagnetic (EM), thermal and circuit designs.
Engineers can access gold-standard tools such as ANSYS HFSS, ANSYS Maxwell, ANSYS Q3D Extractor and ANSYS Icepak using electrical CAD (ECAD) and mechanical CAD (MCAD) workflows. In addition, the Electronics Desktop includes direct links to the full ANSYS portfolio of thermal, fluid and mechanical solvers for comprehensive multiphysics analyses.
Engineers can integrate rigorous 2D and 3D physics analyses with system and circuit simulations, all inside a single framework called ANSYS Electronics Desktop. Any combination of products within the Electronics Desktop can be inserted into a single project. For instance, you can combine disparate design types such as HFSS, Circuit and Icepak into a single project. Schematics can be used to wire up different field solver models and create a model of a high-level system through dynamic links that combine 3D EM and SPICE circuit analyses.
Engineers can efficiently manage complex projects that require several different analysis tools to predict the operation of their electronic products. Designs can also be parameterized. With Optimetrics, design variations can be studied and made available to other modules when the designs are included in a higher-level simulation. This allows engineers to conduct what-if experiments and study the effects of component design parameter variations on the behavior of the entire system.
RF Desense is high on the list of design challenges faced by engineers designing wireless electronic products. Engineers seeking a solution for desense will benefit from using ANSYS HFSS and EMIT to successfully identify and mitigate desense in wireless electronic products. This video gives an overview of the simulation technique used in HFSS and EMIT to solve problems pertaining to radio-frequency interference or RFI, desense, and co-existence. The video also describes the topics of RFI, RF Coexistence and RF Desense.
Founded in 1970, ANSYS
employs nearly 3,000 professionals, many of whom are expert M.S. and Ph.D.-level engineers in finite element analysis, computational fluid dynamics, electronics, semiconductors, embedded software and design optimization. Our exceptional staff is passionate about pushing the limits of world-class simulation technology so our customers can turn their design concepts into successful, innovative products faster and at lower cost. As a measure of our success in attaining these goals, ANSYS has been recognized as one of the world's most innovative companies by prestigious publications such as Bloomberg Businessweek and FORTUNE magazines.
Product:
ANSYS Electronics
Version:
2020 R1 Suite
Supported Architectures:
x64
Website Home Page :
www.ansys.com
Language:
english
System Requirements:
Linux *
Supported Operating Systems:
*
Size:
8.1 Gb
ANSYS Electronics Suite 2020 R1 is supported on the following Windows platforms and operating system levels.
Operating System:
Red Hat Enterprise Linux (RHEL) 7.4,7.5, 7.6,and 7.7(64-bit)
SUSE Enterprise Linux Server & Desktop (SLES / SLED) 12 SP2. SP3 and SP4 (64-bit)
CentOS 7.4,7.5, 7.6 and 7.7 (Community Enterprise OS)
Additional Hardware and Software Requirements
- Intel 64 / AMD64 system with the correct operating system version installed
- 8 GB of RAM (Minimum)
- 128 GB free on the hard drive is recommended
Minimum Graphics RequirementsANSYS Products, Linux Platfoms:
Discrete graphics card with the latest drivers and compatible with the supported operating systems. For full functionality, use of a recent NVIDIA Quadro or AMD Radeon Pro card with at least 1 GB of discrete video memory and supporting, at a minimum, OpenGL version 4.5
ANSYS Discovery Live:
NVIDIA Discrete graphics card (Quadro recommended) with the latest drivers. Kepler-, Maxwell-, Pascal-, Volta, or Turing-based cards are recommended (Maxwell 2000 or better). At least 4 GB of discrete video memory (8 GB recommended). OpenGL version 4.5 or above.
GPGPU:
Some ANSYS products support problem solving on the graphics processor (GPGPU capability). The additional graphics card requirements for GPGPU are included in the GPU Accelerator Capibilities document at ansys.com> Support> Platform Support
In addition, ANSYS 2020 R1 supports the following Virtual Desktop Infrastructure:
- NICE DCV 2017.4 (Red Hat 7, SLES 12, CentOS 7) with VMware vSphere ESXI 6.5 U2 orCitrix Hypervisor 8.0 GPU Pass-Through only
ANSYS 2020 R1 Supported Platforms Compilers
To take advantage of improving compiler technologies, ANSYS updates supported compilers from time to time. The following compilers are supported for user-programmable features and functions at ANSYS 2020 R1:
- GCC 6.3 (Linux)
- Intel Parallel Studio XE 2017 (Linux)
Platform Support by Application / Product - Release 2020 R1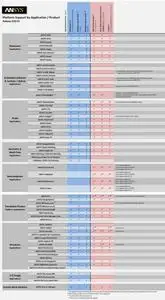 Please visit my blog
Added by 3% of the overall size of the archive of information for the restoration

No mirrors please