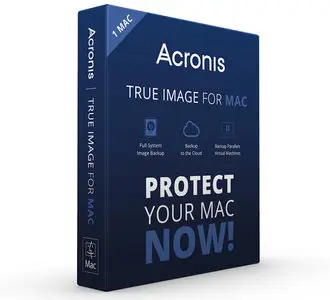 Acronis True Image 2015 for Mac v1.0.6680 | MacOSX | 42.2 MB
Reliable image backup and recovery of your entire system – email, music, photos, videos, documents, personal settings, bookmarks, and all your applications. You choose where, when, and how to back up. Use external drives, cloud backup, Time Capsule, or any NAS device. Set your own backup schedule to save changes constantly as you work. Back up anything – even virtual machines, and keep your system images compressed to take up to 3 times less backup space. The latest edition adds Bootcamp support, is compatible with File Vault 2 and Fusion Drive, and works with Mac OSX 10.10.
Full System Image Backup
Backup your entire system image – that is all your apps, files, user accounts, exact configurations, and even the OS in one compressed file.
Smart scheduling
You decide when and how often to back up your Mac. Set your schedule once, and it will keep working automatically in the background.
Easy recovery
Recovery is no longer a bother. Get your Mac back to where it was at any given moment – no need to reinstall your OS manually, or use any additional tools. You can even create your own rescue media.
Parallels compatible
Backup of virtual machines used to be hard. Not anymore. If you work with Parallels desktop 9 or later, your virtual system is backed up exactly the same way as your Mac.
Backup
Store your backups encrypted and compressed to ensure safety and take up to 3 times less space.
Storage media
True Image works perfectly with nearly all storage media, including Time Capsule, NAS, and more.
Flexible file recovery
Choose the files or folders you want to restore and get them back straight away, without having to restore your entire system.
Advanced backups
Capture only changes made after an initial image backup, and save time and storage space.
Retention schemes
Keep history of 10 last system states to roll back to different points in time whenever you need.
Rescue media
Create your own recovery environment on any external drive, and restore your entire system even if your Mac can't boot.
Personal key encryption
Set a password for your backups so no one but you can access them. We will keep them safe with personal key encryption technology.
Choose your environment
True Image now fully supports Bootcamp, File Vault 2, and Fusion Drive Support.

Work with Mac OS X 10.10
True Image is fully compatible with all Mac operating systems.

New, intuitive interface
We reworked the True Image interface to improve your experience. Backup has never been so simple and good-looking.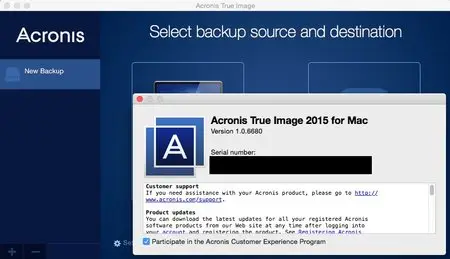 System requirements:
OS X 10.8, OS X 10.9, OS X 10.10
Home Page
-
http://www.acronis.com/en-us/personal/mac-backup/
No mirrors please