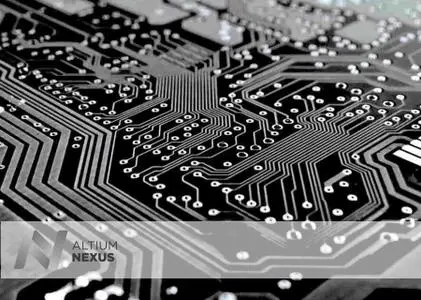 Altium NEXUS 3.2.3 build 52 | 3.3 Gb
The Altium NEXUS development team is pleased to announce the availability of Altium NEXUS 3.2.3 Build 52. This latest update continues to deliver new features and enhancements to the software's core technologies, while also addressing many issues raised by customers through the AltiumLive Community's BugCrunch system.
Schematic
38891 Probes were not recognized in the software.
39554 Move Selection by X, Y in the Schematic Library Editor resulted in the Properties panel not displaying the updated properties of the moved objects. (BC:13981)
PCB
37104 Width rule was not applied to the substack. Use the 'Show values for layer stack' control in the Routing Width design rule to set the width for each substack.
37190 Running DRC on a design returned inconsistent error counts related to the Return Path rule. (BC:14040)
37466 Copper features incorrectly displayed in CAMtastic.
38101 Added control over Gloss Effort to be applied to pushed traces.
38472 Broken Impedance calculations after routing on a PCB with hidden net connections.
38757 The Solder Mask Expansion and Paste Mask Expansion settings were changed after moving pads or making other updates to a pad in a PCBLIB document. (BC:13681)
38798 Crash occurred during placement of Layer Stack Table in PCB.
38992 Invalid Width values for a layer that was not set in Layerstack resulted in an invalid error.
39005 Regions with less than three counts of vertices were still present on the board and PCB List panel when the InPolygon to IsRegion clearance rule was used.
39014 Pad was displayed under Keepout area in Generated Gerber Output when "Include mid-layer pads" checkbox was disabled.
39191 Length Tuning rules were not properly saved after closing and reopening PCB.
39192 The 'Prefer Generic 3D Bodies" mode has been added to the Advanced Settings dialog as a legacy option. (BC:8872)
39217 The Solder Mask Expansion and Paste Mask Expansion settings in the Pad and Via modes of the Properties panel did not reset to the previous state after using the Undo or Ctrl+Z commands. (BC:13779)
39705 PCB incorrectly activated and zoomed in on placed Comments when switching between documents.
40020 Snapping objects did not work for Embedded Board Array objects. (BC:14150)
Draftsman
36791 Dimensions, images, and fabrication views were missing during PDF output. (BC:12807)
37346 Generated Output PDF Views did not match the Draftsman document.
37955 A compatibility warning was incorrectly displayed in the same version in which the document was created.(BC:14123)
38634 Added "Draftsman.UI.SoftwareRender" option in the Advanced Settings dialog to use software rendering in Draftsman documents.
39587 PDF Outputjob files did not print solder mask polygons with cutouts correctly.
39849 Objects could scale and shift incorrectly after zooming and scrolling, which could not be fixed until the file was closed and opened again.
40021 Variant components defined by alternate parts were incorrectly presented as 'Not Fitted'. (BC:13900)
Platform
37838 Software crash upon startup.
38344 Access violation error occurred after changing any part of the path in the Script Report of an OutJob document.
38368 Removed obsolete file extensions from the Altium NEXUS installer. (BC:6183)
38377 Some parameters, such as ItemAndRevision, were not being interpreted for OutJob file names.
38968 Preferences located in the %APPDATA%\Altium\Altium NEXUS folder were not deleted unless admin rights were used.
38999 The Default Prints and Search Paths tabs on the Project Options dialog are now hidden by default.
39092 'File In Use' dialog appears stating that actions cannot be completed if Autocad Fusion and Altium NEXUS are running simultaneously. (BC:10103)
39397 Added editing support for 'Shared with Me' projects in the Comments panel.
39427 Performance degradation when using File > Recent Documents/Recent Projects/Recent Project Groups commands when files from these groups were located on slow servers.
39746 Software displayed a Warning message that Network Activity is disabled and blocked startup when "Altium Portal" checkbox was disabled in System Preferences. (BC:12850)
Data Management
30525 During project migration via the Item Manager, Component parameters were replaced by Symbol model parameters.
37863 Added the ability to save the component selection after using the Refresh command. (BC:13295)
38247 The "Rename" option has been added to the Projects panel to rename files. (BC:4530; BC:1708)
38310 Fixed regression that caused an inability to connect to AltiumLive after disabling the 'Data Management Server' option from the System - Network Activity page of the Preferences dialog then restarting Altium NEXUS.
38583 Added 'Include Standard (No BOM) Items' option to the Pick and Place Setup dialog.
38591 Component Synchronization did not support views and did not show all tables. (BC:13599)
38776 Inaccessible Excel-based DBlib components when Excel file of current library was opened. (BC:13387)
38820 Parameters were incorrectly overlapping when made visible after placement from server to document.
38892 Added the ability to Rename managed projects. (BC:10422)
39023 Memory leak in Draftsman.
39065 'Exception has been thrown by the target of invocation' error message as a result of the enabling of FIPS when using Components.
39073 The ActiveBOM document is now named using the naming rule provided by the project template. (BC:13744)
39280 Content Vault was not accessible when not already connected to a server.
39382 Added the ability for managed Items to be used as New Document Defaults.
39451 Version Control's 'Commit Whole Project' command did not warn the user of unsaved files.
39552 Resistors were displayed without reloading the entire list in the Explorer panel.
39735 "Navigate to" command from Search in the Explorer panel did not work. (BC:14026)
39781 DBLib column values created from Query Expressions were displaying the incorrect Design Item ID.
39927 Error occurred during Project Releaser due to missing template or insufficient user rights.
BOM
35692 Exception error after signing out of Altium Live account and opening BOM document.
39242 Component revision state for managed components was not available in ActiveBOM for unmanaged designs.
Import/Export
36186 When importing files using the PADS importer, PADS Logic library files were not imported.
39196 PCBs imported from Eagle resulted in the creation of duplicated Mechanical Layer Pairs listed in the View Configuration panel. (BC:13813)
Simulation
39446 Case models of digital elements were not found.
Altium NEXUS
is an easy to implement, team-based PCB workflow solution designed to provide the transparency needed for engineering teams to collaborate with confidence. Even though Altium NEXUS includes all the various industry leading PCB domain editors required to create a circuit board, its core DNA is enabling design teams to work together.
Design collaboration is enabled through user roles and managed data (library and design), while providing process automation and a framework to configure common electronic design activities and workflows. This provides organizational transparency to design data changes and workflow states through role based notification. By using Altium NEXUS, companies will have the ability to manage their PCB data, improve communication as it relates to multidisciplinary engineering, and configure and automate workflows replacing existing manual processes - resulting in the reduction of design respins and delivery of higher quality products in a shorter period of time.
Altium NEXUS introduces new technology in PCB data management, design collaboration, and process and workflow control, making it the most comprehensive circuit board design solution, while taking the risk out of integration and deployment. Altium NEXUS includes server technology to support collaboration, process management, and data management, hosted either on-premise (same as Altium Vault), or cloud (option not available previously) environments. The core schematic and PCB design technology of Altium NEXUS is identical to that of Altium Designer 18.0, sharing 100% of the design capabilities - now and always.
What's this Vault, AVS, NEXUS, Concord Pro all about
Altium LLC.
is a multinational software corporation headquartered in San Diego, California, that focuses on electronics design systems for 3D PCB design and embedded system development. Altium products are found everywhere from world leading electronic design teams to the grassroots electronic design community. Founded in 1985, Altium has offices worldwide, with US locations in San Diego, Boston and New York City, European locations in Karlsruhe, Amersfoort, Kiev, Munich, Markelo and Zug, and Asia Pacific locations in Shanghai, Tokyo and Sydney.
Product:
Altium Nexus
Version:
3.2.3 Build 52
Supported Architectures:
x64
Website Home Page :
www.altium.com
Language:
english
System Requirements:
PC *
Size:
3.3 Gb
Below are the recommended system requirements to install and run Altium NEXUS.

Recommended System Requirements

- Windows 7 SP1 (64-bit only), Windows 8 (64-bit only), or Windows 10 (64-bit only) Intel Core i7 processor or equivalent
- 16GB RAM
- 10GB hard disk space (Install + User Files)
- SSD
- High performance graphics card (supporting DirectX 10 or better), such as GeForce GTX 1060/Radeon RX 470
- Dual monitors with 2560x1440 (or better) screen resolution
- 3D mouse for 3D PCB design, such as the Space Navigator
- Adobe Reader (version XI or later for 3D PDF viewing)
- Internet Connection
- Up to date Web browser
- Microsoft Office 32-bit or 64-bit (Microsoft Excel required for BOM, Microsoft Access required for DbLibs). 64-bit Microsoft Access Database Engine 2010 (required for DbLibs) - this is included in Microsoft Office 64-bit, but not included in Microsoft Office 32-bit).
Please visit my blog
Added by 3% of the overall size of the archive of information for the restoration

No mirrors please