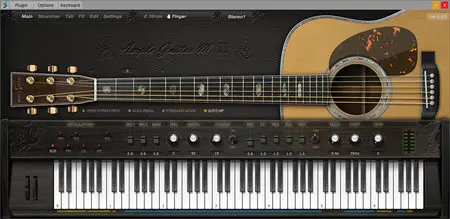 Ample Sound AGM2 v2.5.1 MacOSX | 4.63 Gb
Ample Sound has released Ample Guitar II, a completely recreated program with loads of new features. New sample engine with significant performance improvement: Multiple instances can be loaded much faster and takes only a small amount of additional memory. Improved voice management significantly enhances performance.
Technology:
Capo Logic - Intelligent play according to guitar rules.
Doubling Guitar - different samples at L & R.
CPC(Customized Parameters Control) - any button knob etc can be controlled by MIDI CC or Automation.
Poly Legato.
Slide Smoother.
Combined Articulation - combine 2 articulations via pressing 2 keyswitches at the same time.
Open String First.
Alternate Tuner.
Capo - Transpose without need to modify midi.