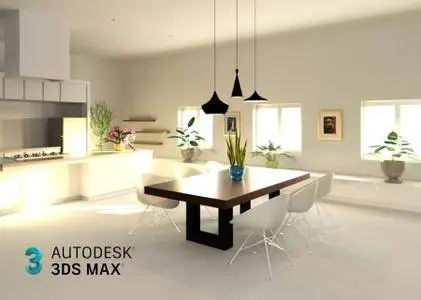 Autodesk 3ds Max 2018 Update1 | 173.6 mb
Autodesk has released an update to 3DS Max, giving current users on rental or maintenance access to the 3DS Max Interactive real-time engine, which is based on Autodesk's Stingray engine. In addition, this update includes fixes related to UV Unwrap, FBX, viewport performance, snapping and many more.
What's New

- 3ds Max Interactive
You now have access to the 3ds Max Interactive real-time engine.
- Model Assist
This new viewport visual style provides improved feedback when working on models with no smoothing groups.
- Scene Converter improvements
Improved conversion of Autodesk Materials when the Slate Editor is open.
- Arnold Renderer improvements
Improved drag-and-drop of materials.
- UVW Unwrap improvements
Improved stability and usability.
- Composite Map
Improved ordering in Composite map.

What's Fixed

MassFX mCloth crashes 3ds Max when going in simulation mode.
Fixed corrupted characters and symbols in the About dialog of localized versions of 3ds Max 2018.
Fixed problems with Parameters string in Event object.
Fixed crash when creating railing objects.
Fixed crash on starup caused by the Vorbis audio codec.
Fixed cases where MCG failed to generate a mesh due to garbage collection issues.
Fixed FBX stability issue when exporting with no animation, affecting UP Axis.
Fixed crash that happened if missing shaders when exiting.
Fixed argument conversion error when windows.SetWindowPos() MAXScript API was called with the applyUIScaling parameter.
Enabled evaluation of .mxs files from the MAXScript Editor.
Fixed crash when opening the Search > Find dialog in the MAXScript listener without giving first focus to an edit window.
Fixed problem with cursor jumping to another line than the one clicked in MAXScript Editor.
Fixed Issue with MCG Transform Spline not scaling tangents properly.
Fixed Issue with MCG "RemapFaces" Operator not handling all channels.
Fixed Issue with MCG node list remaining fully expanded after search.
Fix for using script created objects in skin (an object is just a reference to an INode).
Vertex Alpha and Color do not display or update correctly on Editable Mesh..
Moving multiple vertices in Peel mode is slow.
Create XML common Preset Handling Utility Class.
Add support for non-Command-Panel PBlock2-linked rollups.
File produces crash on opening.
Alembic/Crash when activating a Container button and the Performance mode.
Alembic ABC Performance mode display issues.
Memory leak with expanding command panel.
Random colours when attaching meshes to mesh with data in a map channel.
Error when using the Object Paint's Fill tool.
Fixed crash when using UVW Unwrap and going to "Edge" mode if and invalid VertexIndex is added.
Fixed crash when using UVW Unwrap when selecting "Planar Map" after isolating selected polygons.
Fixed crash when closing UVW Editor or resetting max when an invalid VertexIndex is selected.
Fixed crash when trying to open Render UVW using unsupported drivers.
Fixed issue in UVW peel mode and solid fill when faces and edges are exactly the same color.
Fixed issue with UVW relax by center being too sensitive to be useful.
Fixed issue with UV's breaking when adding topology modifiers between UVW Unwraps.
Fixed crash when using UVW Unwrap Straighten tool.
Fixed crash when opening the Render UVW dialog box related to legacy OpenGL or legacy Direct3d Display driver.
Fixed issue in UVW peel mode, translating UVs/vertices will scale at the same time as they translate instead of translating only.
Fixed memory leak when performing multiple UVW projection modifiers.
Fixed issue with UVW "align horizontally to pivot" command in peel mode having no effect until gizmo is manipulated.
Fixed issue with UVW peel when pinned vertices are sometimes not created.
Errors occurring within custom action items created from python did not include traceback (callstack) information.
3ds Max crash when click on some settings in Rendering > Lighting Analysis > Lighting Analysis Assistant…
Unable to drag and drop a material onto a material slot in material editor.
Enable drag and drop of materials for Scene Atmosphere slot in MAXtoA render settings.
Can't change the layer order in the composite layer map.
Scene Converter holds references to standins after scene load, references not dropped until reset.
Working with materials after using Scene Converter crashes 3ds Max.
Wrong total number of objects displayed in UI.
Welcome screen must switch language text based on URL info.
"Select Previously sent items" menu items uses wrong action table id.
QPushbuttons/QmaxMultspinners are slightly off by one pixel.
Expose NOTIFY_CUI_MENUS_POST_LOAD to MaxPlus.
QIcon and QFont are not parsed successfully in a Qt UI file.
cannot drag-to-dock left/right at some Max window sizes.
Updating the Welcome Screen URL handling - secure server for welcome screen.
Templates: after adding a new template, another template is added.
CUI Frame code cleanup.
"NitrousGraphicsManager.PinViewPanelSize width height" does not update UI as expected.
Crash when deleting template that has no name.
Names of workspaces are cannot handle special characters.
Floating menus should have proper title.
qt5widgets QWidgetPrivate create_sys - memory leak caused system to crash when lot of rollups open, using multiple columns in command panel.
Window size expanding with each run.
CHS: All string truncation in "Light Lister" dialog (Chinese).
UI Checkbox does not show proper state when indeterminate.
Qt5: using Viewport Layout Tabs panel > 'Create a new Viewport Layout Tab' locks much of the UI.
Render Settings dialog will appear off screen when switching from multiple monitors to 1.
Inconsistent color indicators for X,Y, and Z Rotation within different Axis Orders in 3ds Max 2017.
Merge dialog text is hardly legible.
Resizing side by side frames, docked frames behaviors.
Expanding and collapsing the ribbon leaves the frame full size.
Win10 Crash on startup.
UI glitches when resizing viewports.
Crash when opening files with no GPU (on ECS machines for example).
Viewport displays facets for each face.
About Autodesk
Autodesk helps people imagine, design and create a better world. Everyone—from design professionals, engineers and architects to digital artists, students and hobbyists—uses Autodesk software to unlock their creativity and solve important challenges.
Product:
Autodesk 3ds Max
Version:
2018 Update1
Supported Architectures:
x64
Website Home Page :
www.autodesk.com
Language:
english
System Requirements:
PC
Supported Operating Systems:
Windows 7even SP1 / 8.x / 10
Software Prerequisites:
Autodesk 3ds Max 2018
Size:
173.6 mb
Please visit my blog
Added by 3% of the overall size of the archive of information for the restoration

No mirrors please