Autodesk Inventor 2022 with Content | 26.9 Gb
Languages: English, Português-Brasil, Čeština, Français, Deutsch, Italiano,
日本語, 한국어, Русский, 简体中文, Polski, Español, 繁體中文
The software developer Autodesk is pleased to announce the availability of Inventor 2022. In this release Autodesk have hit there three main aims by generating new workflows and adding greater functionality to already experienced tools, creating a better overall experience for users.
What's new in Autodesk Inventor 2022
This year sees many new tools and updates across the latest product, aiming to improve the following key areas:
- Customer-driven improvements
- Continued delivery of professional-grade functionality
- Connected workflows
The majority of the tools created for the latest edition are the most requested enhancements users have been asking for. These new tools, alongside general enhancements to the software, provides Inventor users with more functionality than ever before.
Autodesk has continued to transform the Inventor product by moving yet more panels to the new dockable system, delving deeper into commands such as Fillet, Measure and the new functionality. This works to improve the overall experience and feel of the product, allowing for a cleaner and more desirable experience for end-users.
Autodesk Inventor 2022 also benefits from a new workflow for users with the introduction of Model States. Model states will replace Level of Detail in this year's edition, allowing users to break their model down into manufacturing stages, simplification levels or product families. It is important to note here that model states vary between dimensions, design features with suppressions states, components and bill of materials, iProperties and parameters. Put simply, this powerful new workflow has been integrated across the software allowing users to utilise this in iLogic and add variations in assemblies and drawings.
Shrinkwrap and Shrinkwrap Substitutes have been combined to create a more efficient and well-built tool called Simplify. Simplify incorporates all existing functionality and allows users to work with Presets, thereby generating desired standards for exporting files. The simplify tool also allows users to break models down by feature and component to export directly to a Revit file, drastically improving the connection between the two Autodesk products. With this new functionality, a new workflow for export to Revit has been devised, meaning users can now update the Revit file itself from inside the Inventor model.
Looking deeper into the collection, Autodesk has taken a look at the interoperability with Fusion 360. At this stage, another new workflow has been created to allow you to bypass the desktop connector and send files directly to Fusion from within the model. Improving these connected workflows allows users to enhance their own productivity and performance when working within the Collection.
The final new tool added to the new version is the introduction of Instance Properties. In previous releases iProperties had limited functionality, this occurs when a singular component wanted to be modified within multiple higher level assemblies. Instance properties counteract this issue as they are stored in the parent assembly file and take precedence over iProperties. This new functionality could be used to generate individual properties for content centre files, or to separate same components in an assembly for the BOM and parts lists.
Not only have new tools been added but updates and new functionality for existing tools and commands. A notable addition to the assembly environment is the constraint enhancements. New icons allow users to see under constrained components, allowing for greater control of their models. The drawing environment is another key area that has been upgraded with additions to view placement and shaded lighting styles.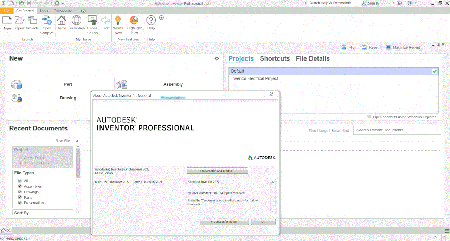 Autodesk Inventor
is a professional grade design and engineering software. It is a complete solution for 3D mechanical design, simulation and automating design workflows as well as every day repetitive tasks that help you to make great products cost-effectively, in less time. With Inventor Professional, you can easily integrate AutoCAD and 3D data into a single digital model to create a virtual representation of the final product. Inventor Professional helps you realise the benefits of 3D product development by providing an associative link to native DWG files to ensure accuracy in your design.
Inventor takes you beyond 3D to Digital Prototyping by enabling you to produce an accurate 3D model that can help you design, visualise, and simulate your products before they are built.
CAD productivity and design communication tools can help you reduce errors, communicate more effectively, and deliver more innovative product designs faster.
Autodesk Inventor 2022 is packed with customer-driven updates and enhancements to help you speed up your design workflows, reduce repetitive tasks, and improve experiences so you can focus more time on design and innovation.
Autodesk Inventor 2022 - Whats New
Autodesk
helps people imagine, design and create a better world. Everyone—from design professionals, engineers and architects to digital artists, students and hobbyists—uses Autodesk software to unlock their creativity and solve important challenges.
Product:
Autodesk Inventor
Version:
2022 with Content *
Supported Architectures:
x64
Website Home Page :
www.autodesk.com
Language:
multilanguage
System Requirements:
PC **
Size:
26.9 Gb
Please visit my blog
Added by 3% of the overall size of the archive of information for the restoration

No mirrors please