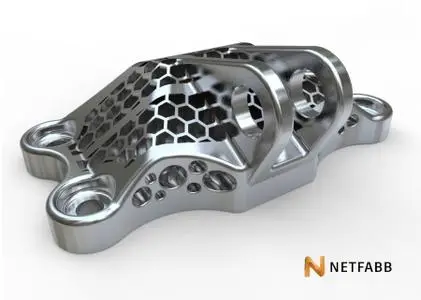 Autodesk Netfabb Ultimate 2020 R3 | 1.3 Gb
The Autodesk team is pleased to announce the availability of Netfabb 2020 R3. This update is mainly a bugfix release, it brings only minor modifications.
Netfabb

Graphical toolpath editor
Undo & redo as well as copy & paste are now supported when adding and removing, placing, and connecting function blocks.
Hatch supports
A new variant of the bar support now creates bars in the shape of ribbons, exposed by a single hatchline whose cross sections are all aligned.
QR Code generation
A new primitive in the part library creates physical QR codes
Machine workspaces
New machines by AddUp, Formlabs, LMI, and NXT Factory have joined Netfabb's range of directly supported machines.
UI improvements
The repair action dialogs have been unified.
The same improvement has been applied for Generate Shell and Z-Compensation.

Advanced Toolpath Utility

EBPA String parameter
New string-based parameter types have been added to buildstyles: string, multi-line string, and stream (base64 encoded binary block)
Faster Hull&Core
A faster algorithm was found that should improve calculation of Hull&Core significantly.
Highlight dockwidget tabs labels
The ATU GUI now provides better access to code problems and buildstyle log information at the bottom of docked windows.
Autodesk Netfabb
is a software application tailored for additive manufacturing, rapid prototyping, and 3D printing. It prepares three-dimensional files for printing and converts them into 2.5-dimensional slice files, consisting of a list of two-dimensional slice layers. To help users prepare the print, features are available for viewing, editing, repairing, and analyzing three-dimensional STL-files or slice-based files in various formats. To perform the print preparation operations, Netfabb uses an STL file format to create a mesh of the part.
According to Netfabb, there were already 80,000 users of its products worldwide before it became a part of the Autodesk family. Since Netfabb's acquisition by Autodesk in 2015, they have continued to expand its tools and capabilities year on year and 2020 is no exception.
The 2020 Release provides easier file sharing, and improved file import controls on homogenization and volume fraction. Controls for build plate adjustment and animations are enhanced.
Netfabb is available to customers in 4 different subscription models: Netfabb Standard, Netfabb Premium, Netfabb Ultimate and Netfabb Simulation.
This tutorial will teach Ember users, who have been using Print Studio, to print a part using the equivalent workflow in Netfabb Basic. We'll import a model, position it on the build platform, create supports, choose printer settings, and send the print data to Ember.
Autodesk.
helps people imagine, design and create a better world. Everyone—from design professionals, engineers and architects to digital artists, students and hobbyists—uses Autodesk software to unlock their creativity and solve important challenges.
Product:
Autodesk Netfabb
Version:
2020 R3 Ultimate
Supported Architectures:
x64
Website Home Page :
www.netfabb.com
Language:
english
System Requirements:
PC *
Supported Operating Systems:
*
Size:
1.3 Gb
System requirements for Autodesk Netfabb 2020

Operating System:
- Microsoft Windows 10 64-bit
- Microsoft Windows 8.1 64-bit
- Microsoft Windows 7 SP1 64-bit
CPU Type: Intel Core i5 (2.8+ Ghz)
Memory: 8 GB of RAM
Display Card with OpenGL 3.3 support 2 GB dedicated video card
Display Resolution 1920 x 1080 minimum
Network Card Required for network installation with FlexLM licensing
Internet Connection Optional depending on licensing, as well as for updates and A360 access.
Java Runtime 1.8u25 64-bit or newer, 32-bit Java is no longer supported.
Please visit my blog
Added by 3% of the overall size of the archive of information for the restoration

No mirrors please