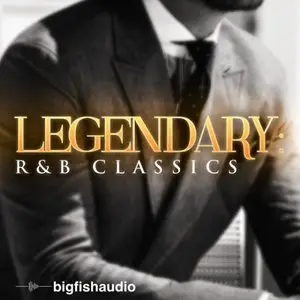 Big Fish Audio Legendary R and B Classics KONTAKT | 1.26 Gb
Big Fish Audio is proud to present Legendary: R&B Classics, the new hit R&B sample library that boasts 16 construction kits full of the classic vibe that made R&B what it is today. All loops and samples are brought to you in high quality 24-bit and formatted in the Apple Loops, REX, and Acidized WAV formats. Additionally, each construction kit includes drum tracks and drum hits folders. From classic beats and vintage synth melodies to soft flutes and soaring strings, Legendary: R&B Classics has what you need to make your tracks instant classics.
KLI Series
This product is part of Big Fish Audio's KLI series, which includes a custom Kontakt interface. The Kontakt format features patches of each loop. Customize each loop with the "sliced loops" patches. The Sliced Loop patches lay out each individual slice of a loop across the keyboard, making it easy to create new and original custom parts. The "Kit Combos" allow you to arrange full construction kits quickly and easily with a custom mixer and a host of included fx. Create, arrange, tweak, and mix all within the Kontakt format.
Legendary: R&B Classics includes Drum Kit and Drum Menu patches. The Drum Kit patches include all drum loops and single hits from a particular construction kit. The Drum Menu patches include all the one shot samples of a particular piece of the kit, e.g. claps, kicks, snares, hi-hats etc. In addition, Legendary: R&B Classic includes Single Instrument menu patches. These patches include all the loops from each individual instrument laid out in menu style.
The KLI version of this product comes in both Kontakt 4 and Kontakt 5 versions. For those with the full version of Kontakt 5, take advantage of the new high quality and extremely flexible new time stretching algorithm as well as a bunch of new included FX.
Kontakt4/5 Version
- Legendary: R&B Classics includes nearly 2 GB of content with 360 different kontakt patches.
- Sliced Loops - There are 322 ?sliced loops? patches. Each loop from the product has been given its own patch and can be edited extensively using the ?loop fx? interface. The full loop can be triggered at C0. The loop can be played backward at D0. Individual slices start at C1 on the keyboard.
- Kit Combos - 16 patches are included in the Kit Combos section. Each patch contains all the loops from that construction kit to create quick and easy arrangements. Loops start at C0 on the keyboard.
- Drums - This section includes all multi-track drum loops (starting on C2) and all single hits (starting on C4) giving you complete access to create your own custom drum parts.
- Single Instruments - These patches are menus of each included instrument all grouped together. Single instrument patches include: bass, guitars, keys, pads, piano, rhodes, strings, synth, wind instruments and all Drum loop Elements. (Clap-snap, Cymbals, Hi-Hat, Kick, Shaker, Snare, Tambourine)
Big.Fish.Audio.Legendary.R.and.B.Classics.KONTAKT-MAGNETRiXX
Home Page
-
http://www.bigfishaudio.com/Legendary-RnB-Classics
No mirrors please