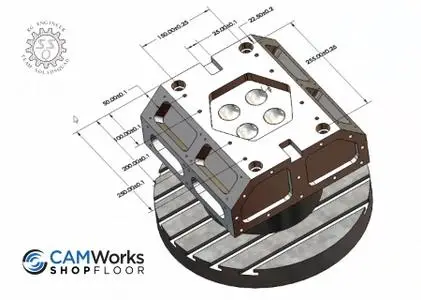 CAMWorks ShopFloor 2019 SP5.0 | 1.0 Gb
Languages: 中文 Simplified, 中文 Traditional, Français, Deutsch, Italiano, 日本語, Polski,
Português-Brazilian, Русский, Español, Türkçe, 한국어, Čeština
GeometricPLM is pleased to announce the availability of CAMWorks ShopFloor 2019 SP5.0 is the latest Industry 4.0/Smart Manufacturing tool specifically designed for the CNC machinist on the shop floor and promotes digital manufacturing by providing 3D models with MBD & PMI data and CNC programming information to the shop floor in a single, compact digital format.
Bug Fixes in CAMWorks ShopFloor 2019 SP5.0: Bug Fixes
CW-93789 In Japanese language version of CAMWorks ShopFloor application, the translation of the text string for the 'Help'menu bar is incorrect.
CAMWorks recently released ShopFloor
which is the latest Industry 4.0/Smart Manufacturing tool made for the CNC machinist. This new addition aides in increasing production with fewer errors by virtually simulating the CNC program.
CAMWorks ShopFloor was designed to provide state-of-the-art digital tools that help machinists leverage their data. These tools promote digital manufacturing with 3D models demonstrated with MBD & PMI data. By improving communication between shop floor machinists and CNC programmers, companies are able to progress beyond traditional methods to improve quality and productivity. This also allows them to meet Smart Manufacturing and Industry 4.0 initiatives.
CAMWorks is known for their CNC software for machine tools and was the first to be awarded SOLIDWORKS Certified Gold Product for manufacturing and CAM software.
CAMWorks ShopFloor | Publish
GeometricPLM by HCL Technologies
a specialist in the domain of engineering solutions, services and technologies. Its portfolio of Global Engineering services, Product Lifecycle Management (PLM) solutions, Embedded System solutions, and Digital Technology solutions enables companies to formulate, implement, and execute global engineering and manufacturing strategies aimed at achieving greater efficiencies in the product realization lifecycle.
On April 1st 2016, Geometric got into an agreement with HCL Technologies to transfer of its business to HCL Tech by way of demerger, except for its 58% share in the joint venture with Dassault Systèmes (3DS) (3DPLM Software Solutions Limited (3DPLM)). The transition has become effective on March 2nd 2017, after seeking all statutory approvals.
Product:
CAMWorks ShopFloor
Version:
2019 SP5.0.0 build 2019/1219 (19-December-2019)
Supported Architectures:
x64
Website Home Page :
www.camworks.com
Language:
english
System Requirements:
PC *
Supported Operating Systems:
*
Software Prerequisites:
*
Size:
1.0 Gb
Before installing CAMWorks ShopFloor 2019, ensure that the following system requirementsare fulfilled:

Supported Microsoft Windows Operating Systems
- 64-bit version of Windows 10
- 64-bit version of Windows 8.1
- 64-bit version of Windows 7 (SP1 or higher)
** Home editions of the above Operating Systems are not supported.
Hardware Requirements
RAM: 8 GB or more recommended
Video Card: Certified cards and drivers
Processor: Intel or AMD processors with SSE2 support. 64-bit operating system required.
USB port: If you choose to have CAMWorks ShopFloor licensing via a USB dongle (key),then access to an USB port is required to plug in the CAMWorks Hardware Dongle(key)into the USB port.
Network: Microsoft's Windows Networking and Active Directory network environments.
Install Media: Broadband Internet Connection
Supported Platforms:
CAMWorks 2019 SP4
CAMWorks 2019 SP3
Please visit my blog
Added by 3% of the overall size of the archive of information for the restoration

No mirrors please