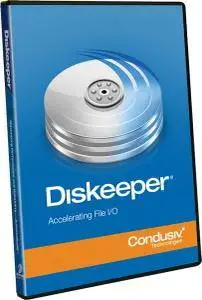 Condusiv Diskeeper 16 Professional 19.0.1220.0 (x86/x64) | 68.2 MB
Diskeeper® 16 Home with DRAM caching has a completely new look, making it even easier to keeps PCs in the home office running faster than new. Diskeeper 16 Home also works on up to 3 computers. You will experience greatly improved PC performance, faster boot-up times and increased speeds on everything from internet browsing to application launch times. Plus, it's completely automatic. Just install Diskeeper and let it run. That's it!
Speed Up Your PC & Keep It Running Better Than New
Diskeeper 16 Home benefits include:
New! Accelerate Performance on Windows Systems with DRAM Caching
Diskeeper 16 now has the I/O optimization technology of IntelliMemory® that intelligently caches frequently accessed files using idle memory – up to 2GB in the Home edition. Nothing has to be allocated for cache as Diskeeper automatically uses only what is available.
Cures And Prevents Performance-Robbing Fragmentation Before It Happens
Historically, fragmentation has been addressed after it has already occurred through a defragmentation process. While this provides great performance benefits, clearly the best strategy is to prevent the problem from happening in the first place and always work with clean, fast PC. Diskeeper 16 with IntelliWrite® is the first solution that will prevent up to 85% of the fragmentation that causes PC slows, hangs and crashes. It intelligently writes files all lined up side-by-side so system resources are not wasted by creating fragmentation. The results? Optimum PC speed and reliability.
New! Fresh New User Interface Makes Using Diskeeper 16 Even Easier
Diskeeper 16 sports a completely new look and feel that is easier to navigate and see what is happening at a glance.
New! Faster Boot Up Times
Diskeeper 16 includes HyperBoot™ technology which improves system boot times. HyperBoot operates completely in the background, requiring no user interaction and will not impact system resources.
Run Your PC at Peak Performance 24/7
Diskeeper 16 includes the Instant Defrag™ engine to instantly eliminate any fragmentation that wasn't prevented by the IntelliWrite engine. With IntelliWrite and Instant Defrag combined, your PC will run at peak performance every minute of every day – no matter how busy your system is. Now you never have to access slow, fragmented files ever again.
New! Optimizes Solid States Drives
HyperFast® solid state drive optimizer now comes standard with Diskeeper 16. HyperFast is designed to keep SSD laptops, desktops and netbooks running at top speeds while also extending the lifespan of your solid state drive - saving you money in replacement costs.
Improved! Runs Invisibly In The Background
InvisiTasking® is an intelligent monitoring technology allows all "background" operations within the system to run with near-zero resource impact on current activities.
New! Enhanced Reporting
See how many fragments are eliminated, what that means to percentage of write input/output operations that have been reduced and how much I/O time has been saved on the system as a result. Also, see what percentage of read requests and how much data is cached within idle memory and how much time that has saved your system by serving such requests from DRAM instead of HDD or SSD storage. See free spaces consolidated and many more I/O performance metrics to help you understand what is occurring on your system and how much benefit Diskeeper is providing. The new dashboard reporting shows the actual "time saved" benefit on every system so the value is easily quantifiable and never in question.
Home Page
-
http://www.condusiv.com/