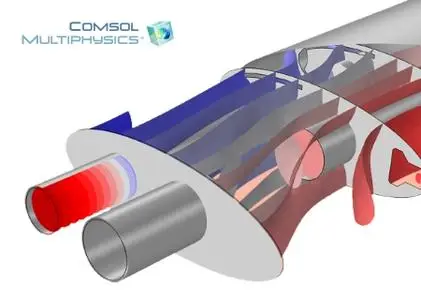 Comsol Multiphysics 5.4.0.346 | 4.1 Gb
The COMSOL team has released an update 3 to COMSOL Multiphysics 5.4. This update contains performance and stability improvements to COMSOL Multiphysics, COMSOL Server, and COMSOL Client.
Version 5.4.0.346 - Date: April 2, 2019
All COMSOL software products undergo stability improvements that are introduced as updates. The following list contains the most important improvements in COMSOL version 5.4 update 3.
COMSOL Multiphysics
- Fixed an issue causing the settings for subnodes of PDE interfaces to not be included in reports when requested.
- Added support for adaptation in the Stationary Source Sweep study.
- COMSOL Multiphysics version 5.4 is the last COMSOL version to support the Red Hat Enterprise Linux 6.
- Made various stability and performance improvements.
COMSOL Server
- Added support for filtering and sorting to COMSOL Client for Android.
AC/DC Module
- The Electric Currents, Single Layer Shell interface is now visible in the AC/DC section of the Model Wizard, making it easier to find when creating new models.
- Made stability improvements for the computation of contact impedance losses in the frequency domain.
- Improved magnetic coenergy density support.
Chemical Reaction Engineering Module
- Corrected the Thermodynamics density function for the Ideal gas model. The derivatives with respect to the species mass fractions are now correctly evaluated.
- A new setting to control the convection is introduced in flux boundary conditions for mass transport. This setting is used to ensure backward compatibility for models created in previous versions.
ECAD Import Module
- Fixed an issue that prevented ODB++ files with several steps to import correctly.
Fatigue Module
- The use of auxiliary sweeps in fatigue computations has been improved.
- Critical plane evaluations in the Fatigue Module are now more robust for cases where all stress or strain states are close to proportional to each other. Previously, the predicted fatigue life could be overly conservative in such situations.
Heat Transfer Module
- Fixed contribution of Equilibrium Discharge Heat Source, Electromagnetic Heating, Electrochemical Heating, Ray Heating, and Geothermal Heating features to the residual variable.
- Improved performance of models that use the Surface-to-Surface Radiation interface.
- Surface-to-surface radiation: Corrected diffuse irradiance contribution for models with multiple spectral bands.
- Fixed the override of layered material definitions in Porous Medium features in the Heat Transfer in Shells interface.
- Added support for thermal conductivity tensor definitions when using a moving frame combined with user-defined coordinate systems.
- Fixed Ambient Settings description in automatic report generation.
- Fixed continuity condition for relative humidity on pairs in the Moisture Transport interface.
LiveLink for PTC Creo Parametric
- Fixed an issue where selections defined in components sometimes would not be loaded into the assembly.
Particle Tracing Module
- Fixed a bug where the Thermal Re-Emission boundary condition and the Inlet with the Thermal velocity distribution did not initialize an out-of-plane particle velocity.
- Fixed an error when two or more Accumulator features are used to compute a vector quantity, such as volume force or current density, on different domains.
- Allowed the Thermal Re-Emission boundary condition and the Thermal velocity distribution to use a Common Model Input for surface temperature or couple the surface temperature to a field variable previously solved for.
- Corrected an error when the Thermal Re-Emission boundary condition was used together with the Accumulator subnode.
Ray Optics Module
- Fixed an error in the Grating feature when Compute Power is selected from the physics interface's Intensity Computation list.
Semiconductor Module
- Fixed an issue with the time derivative weak term for the quasi-Fermi level formulation.
- Fixed missing safeguard for square root of negative number for the variable g_red0, which is used in the Kane 4-band model for the matrix element computation in the Optical Transitions feature.
Structural Mechanics Module
- Corrected an error in the Plate interface where it was not possible to enter initial values for all degrees of freedom from the user interface.
- Corrected a problem where the Augment for rigid response check box in the settings for a response spectrum dataset was not responsive.
Subsurface Flow Module
- Corrected a problem in the 1D Darcy's Law interface when changing the cross-sectional area to something other than 1 m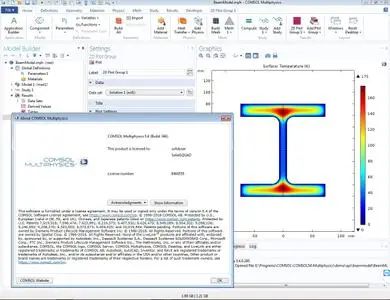 About Comsol Multiphysics 5.4.
Its the latest release of its integrated environment for creating physics-based models and simulation applications. Version 5.4 marks the debut of the COMSOL Compiler for creating standalone COMSOL Multiphysics applications. Also new is the Composite Materials module for modeling layered materials.
The new COMSOL Compiler enables simulation specialists to create and distribute standalone executable COMSOL Multiphysics applications. The company explains that neither COMSOL Multiphysics nor a COMSOL Server license are required to run a compiled application. Developers can distribute applications with no further license fees.
The new Composite Materials module provides a dedicated set of modeling tools for working with layered materials. The company adds that by combining the Composite Materials module with new functionality for layered shells available in the COMSOL Heat Transfer and AC/DC modules, users can perform multiphysics analysis such as Joule heating with thermal expansion.
COMSOL Multiphysics version 5.4 also introduces numerous productivity improvements such as the ability to use multiple parameter sets in a model, including parametric sweeping over multiple parameter sets. Users can now also organize Model Builder nodes into groups and assign custom coloring schemes to geometry models. Among the various performance improvements is an updated memory allocation scheme that, the company says, gives several times faster computations in the Windows 7 and 10 operating systems for workstations with more than eight processor cores.
The AC/DC module features a new part library with fully parametric and ready-to-use coils and magnetic cores. The Computational Fluid Dynamics (CFD) module sees added functionality for large eddy simulations (LES) and, according to the company, significantly updated modeling tools for multiphase flow. Fluid flows also see functionality that enable fluid-structure interaction (FSI) for multiphase flow and multibody dynamics.
Electromagnetics enhancements include structural-thermal-optical-performance (STOP) analysis for ray optics. Structural simulations now provide shock response spectrum analyses and offer material activation for additive manufacturing. The Acoustics module sees acoustic ports and a new nonlinear acoustics Westervelt model.
Other version 5.4 highlights include a new topology optimization tool, new lumped models for batteries as well as an updated thermodynamics interface. Heat transfers now features heat radiation with diffuse-specular reflections and semi-transparent surfaces as well as a light-diffusion equation.
In this video, we show you how to model a dipole antenna in the COMSOL Multiphysics software. After watching this video, you will have a solid foundation for creating models of more complex antenna geometries, as the process for building different antenna models is essentially the same.
About COMSOL Inc.
COMSOL is a global provider of simulation software for product design and research to technical enterprises, research labs, and universities. Its COMSOL Multiphysics product is an integrated software environment for creating physics-based models and simulation applications. A particular strength is its ability to account for coupled or multiphysics phenomena. Add-on products expand the simulation platform for electromagnetics, structural, acoustics, fluid flow, heat transfer, and chemical applications. Interfacing tools enable the integration of COMSOL Multiphysics simulations with all major technical computing and CAD tools on the CAE market. Simulation experts rely on COMSOL Server to deploy applications to their design teams, manufacturing departments, test laboratories, and customers throughout the world. Founded in 1986, COMSOL has 19 offices worldwide and extends its reach with a network of distributors.
Product:
Comsol Multiphysics
Version:
5.4.0 Update 3 Build 346
Supported Architectures:
x64
Website Home Page :
www.comsol.com
Language:
english
System Requirements:
PC / MacOsx / Linux
Supported Operating Systems:
*
Size:
4.1 Gb
Please visit my blog
Added by 3% of the overall size of the archive of information for the restoration

No mirrors please