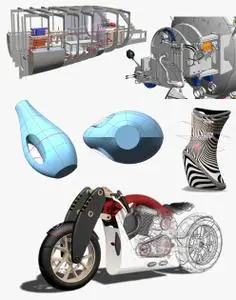 DPT ThinkDesign 2019.1 (x64) | 2.13 GB
DPT has officially announced the release of ThinkDesign 2019.1 Professional. The full product version with all the features developed so far, a unique powerful solution, covering all the design process for a total design experience.
About DPT ThinkDesign. The ThinkDesign Professional solution covers the entire product definition cycle, meeting the needs of those working in Styling, Engineering and Tooling departments.
It encompasses all the experience gained by think3 in the field while supporting clients, and all the power of the ThinkDesign Suite that, version after version, has developed to achieve levels of integrity and flexibility that are still unique in the CAD solution world. The range of tools is amazingly rich.
Using functions such as 2D, 2D and 3D integration, curve creation and editing, surfaces and solids, sheet metal, tubing, assembly management, table creation, animation, mechanical component libraries, FEM integration, rendering and much, much more, the project materializes in the product. Integration with the thinkPLM suite means the whole lot is managed perfectly.
One of the benefits of using a unique solution like ThinkDesign Professional throughout the various product definition phases lies in the demolition of the communication barriers among designers, engineers and molding and equipment technicians, due to the possibility of intervention without losing the work done by other departments.
Thanks to the advantages of the solid modeling, the flexibility of the free form surface models and the impressive GSM3 editing tools, you can make highly creative and precise modifications to any type of shape, be it native or imported, while keeping complete association, in a much shorter time compared to traditional approaches.
Operating System:
Windows® 10, Windows® 8 / 8.1, Windows® 7
x64
Home Page
-
http://www.dptcorporate.com/