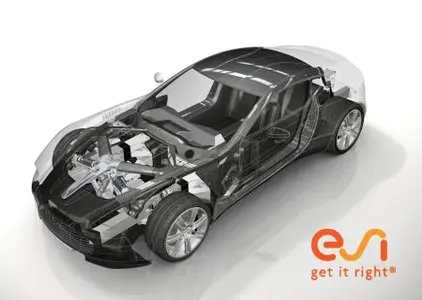 ESI Visual-Environment 10.7 | 2.0 Gb
ESI Group, pioneer and world-leading solution provider in Virtual Prototyping for manufacturing industries, has released update of Visual-Environment 10 is a comprehensive simulation platform enabling faster decision-making across multiple domains. The latest version Visual-Environment 10 enables the swift integration of calculations using open source CFD software OpenFOAM.
Visual-Environment 10.0 provides a very intuitive interface for all CFD engineers. It allows them to accelerate the preparation of most common CFD calculations, including airflow for external aerodynamics, internal airflow for underhood and climate control, and investigation of flow around rotating bodies. More specifically, this new version of Visual-Environment provides users of the well-known open source CFD modules of OpenFOAM® with the first compatible industrial grade platform: enabling seamless CAD import, easy model set-up, pre- and post-processing, macro-capabilities and customization.
Visual-Environment 10.0 enables design engineers to get quick answers for various design options, on a daily basis. Once a CFD expert has defined an analysis process, fellow design engineers can benefit from automated meshing, set-up and processing, enabling them to obtain CFD models in a third of the time, with no supervision and with minimum training.
With this latest release, Visual-Environment 10.0 platform now supports additional formats generated by third-party CAD tools: ACIS, Solid Edge, Inventor and SolidWorks. Visual-Environment users can now import files from these third party software, without the need for time-consuming conversions.
In this latest version, special attention has been paid to calculation speed and robustness, to deliver on an industrial scale.
Visual-Environment 10.7 is an update release after VE 10.5 to address customer-specific requirements in the following applications:
- Visual-Cast is the single integrated environment for all of your casting needs. The pre-processor helps in model set-up, aided by definition of physics on topology and tailored process flowchart using integrated Visual-Process. Visual-Cast is also linked to Thermodynamic Databases for the automatic determination of the material properties.
- Visual-Mesh (Cast) is a complete meshing tool for Casting and other volume based applications. This supports a multi-model environment with model explorer and powerful display controls. It facilitates import of CAD and mesh data from various sources, repair CAD geometry, assembly of volumes, generation of surface mesh, validation and correction of surface mesh and finally generation of volume meshes.
- Visual-Viewer (Cast) is the visualization and plotting tool that helps in analyzing ProCAST and QuikCAST results data within a uniform interface. It performs automated tasks and generates customized reports, thereby increasing engineer productivity.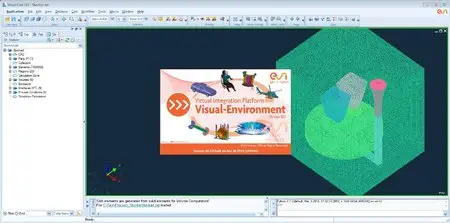 About ESI
ESI is a world-leading provider of Virtual Prototyping software and services with a strong foundation in the physics of materials and Virtual Manufacturing.
Name:
ESI Visual-Environment
Version:
10.7
Home:
www.esi-group.com
Interface:
english, french
OS:
Windows XP / Vista / 7even / 8
Size:
2.0 Gb

visit my blog
All parts on filepost.com, rapidgator.com, nitroflare.com interchanged. It is added by 5% of the overall size of the archive of information for the restoration and the volume for the restoration

No mirrors please