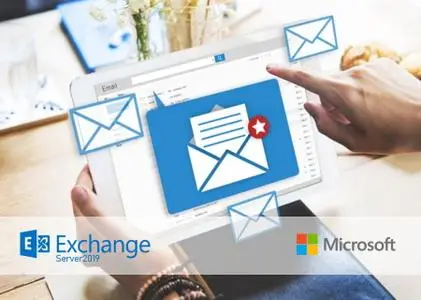 Microsoft Exchange Server 2019 CU7 | 1.4 Gb
The Microsoft product team is pleased to announce the availability of Cumulative Update 7 to Exchange Server 2019, the newest version of its venerable email server.
Exchange Server 2019 CU7 - Released: September 2020 Quarterly Exchange Updates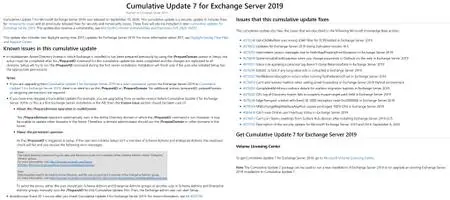 Exchange Server 2019
is designed to deliver security, performance and improved administration and management capabilities; attributes our largest on-premises customers expect from Exchange.

Security: Exchange Server 2019 requires Windows Server 2019. In fact, we recommend installing Exchange Server 2019 onto Windows Server 2019 Server Core. Exchange Server 2019 installed on Windows Server 2019 Core provides the most secure platform for Exchange. You also have the option of installing Exchange 2019 onto Windows Server 2019 with Desktop Experience, but we have worked hard to make sure running Exchange on Server Core is the best choice for our code.

We're aware all media for Windows Server 2019 and Windows Server, version 1809 has been temporarily removed and Microsoft will provide an update when refreshed media is available. Exchange Server 2019 will be fully compatible with version 1809, and the refreshed version.

We also built Exchange Server 2019 to only use TLS 1.2 out of the box, and to remove legacy ciphers and hashing algorithms.

We've done significant work to allow Exchange Server to take advantage of larger core and memory packed systems available in market today. With our improvements, Exchange Server can use up to 48 processor cores and 256GB of RAM.

We've re-engineered search using Bing technology to make it even faster and provide better results, and in doing so have made database failovers much faster, and administration easier.

We're adding dual storage read/write capabilities to Exchange Server 2019 using Solid State Drive (SSD) technology to provide a super-fast cache of key data for improving end user experience. We also talked about this in our Email Search in a Flash! Accelerating Exchange 2019 with SSDs session at Ignite.

We also changed the way database caching works to allocate more memory to active database copies, again improving the end user experience. You can learn more about Dynamic Database Cache from Welcome to Exchange Server 2019! video and slides.

The improvements we have made to Exchange Server 2019 will enable you to scale to a larger number of users per server than ever before, use much larger disks, and see the latency of many client operations being cut in half.

We all rely on Exchange for calendaring, and we know large enterprises are heavy calendar users. We are bringing a few key features such as restricting the forwarding of meeting requests and better control over OOF settings to Exchange Server 2019. Administrators get some new calendaring features too, as we're adding the ability to manage events on user's calendars and assign delegate permissions more easily.

We are also adding support for routing mail to and from EAI/IDN recipients and hope to add additional capabilities in this area in the future.
Microsoft Corporation,
leading developer of personal-computer software systems and applications. The company also publishes books and multimedia titles, offers e-mail services, and sells electronic game systems, computer peripherals (input/output devices), and portable media players. It has sales offices throughout the world.
Product:
Microsoft Exchange Server
Version:
2019 Cumulative Update 7 Build 15.02.0721.002 *
Supported Architectures:
x64
Website Home Page :
www.microsoft.com
Language:
multilanguage
System Requirements:
PC **
Supported Operating Systems:
Windows 10
Software Prerequisites:
***
Size:
1.4 Gb
*
Each CU is a full installation of Exchange that includes all updates and changes from previous CUs. When installing a new Exchange server using the latest released CU, you don't need to install Exchange RTM or any previously released CU.

The #CU7 package can be used to run a NEW installation of #ExchangeServer2019 or to UPGRADE an existing installation.
Processor - Intel processor that supports Intel 64 architecture
- AMD processor that supports the AMD64 platform
Memory - Mailbox role: at least 128GB is recommended
- Edge Transport role: at least 64GB is recommended
Exchange Server 2019 supports up to 256 GB RAM
Paging file size 25% of installed memory is recommended (e.g. for 64GB RAM use 16GB page file)
Disk space At least 30GB of free space on the drive where you're installing Exchange
- At least 200MB of free space on the system drive
- At least 500MB on the drive containing the message queue database
Screen resolution 1024 x 768 pixels (XGA) or higher
File system NTFS is required on partitions that contain the following types of files:
- The System partition
- Exchange binaries
- Files generated by Exchange diagnostic logging
- Transport database files (for example, the mail queue database)
Optionally, you can use ReFS on the partitions that contain the following types of files:
- Mailbox databases and transaction logs.

NOTE: Microsoft doesn't support Exchange 2019 on Intel Itanium IA64 processors and recommends up to 2 processor sockets on a physical computer.
Microsoft encourages installing Exchange Server 2019 on a server running Windows Server Core, but you can't run Exchange Server 2019 on a nano server.

Exchange Server 2019 Requirement:
Mailbox and Edge Transport server roles
- Windows Server 2019 Standard or Datacenter
Management tools
- Windows Server 2019 Standard or Datacenter
- Windows 10 64-bit
Please visit my blog
Added by 3% of the overall size of the archive of information for the restoration

No mirrors please