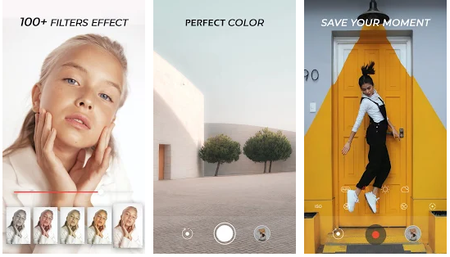 S20 Ultra Camera - Galaxy s20 Camera Professional v1.0.7 | Android | 65 MB
Camera S20 Ultra - Galaxy s20 Camera Professional & 8K for the most perfect photo quality, professional shooting and video modes diversity. Giving you hundreds of funny filters and stickers, instantly captured and shared on social networking sites. This is the best professional camera app for your device.
Perfect is the word to say about the application and experience this new S20 camera.
- S20 brings you 100+ beautiful color filters and hundreds of fun AR stickers, professional smoothing and beautifying modes. A completely simple photography experience on your device but with the same quality as professional DSRL cameras.
Features
- Smart automatic mode
- Take photos with just one touch.
- Adjust parameters such as exposure balance, iso, exposure compensation, etc. with professional shooting mode
- Professional automatic skin beauty mode
- Camera mode 4k, 8k, HDR mode, touch to focus
- 100+ beautiful color filters
- Blur background with s20 camera
- Auto flash on/off
- Funny AR stickers
- Silent capture mode option
- Improve photos taken in low light, overexposure with HDR mode
Professional Version:
- Prime Feature Unlock.
- Analytics / Crashlytics Disabled.
- Splits0 File Removed (Resources & AndroidManifest).
- Splits0 Releated Unnecessary Meta-Data Remove Like:
- Stamp Source, Stamp Type Standalone Apk, Android Vending Splits, Android Vending Derived Apk.
- Removed Debug Information (Source, Line, Param, Prologue, Local).
Requirements:
Android 4.4+
HomePage
-
https://play.google.com/store/apps/details?id=com.cameras20.galaxys20camera