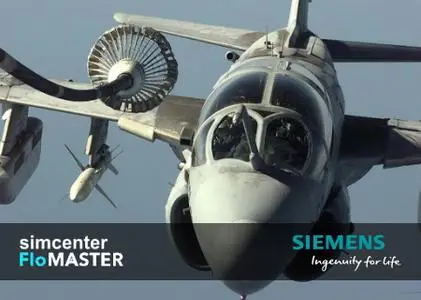 Siemens Simcenter FloMASTER 2020.1 | 1.5 Gb
The Siemens Digital Industries development team is pleased to announce the availability of Siemens Simcenter FloMASTER 2020.1 With the 2020.1 release of Simcenter system simulation solutions, Siemens Digital Industries Software continues to keep pace with the industry 's rapid technological evolution.
With this update the Simcenter simulation solutions become even more easy to use and customizable. With environmentally sustainable design and performance expectations, the race for electrification, new mobility, stringent regulations and quality and safety requirements, Simcenter system simulation solutions enhance productivity across the enterprise. Extended interoperability and synergies boost collaboration and efficiency, and new solutions, including with dedicated user experiences, help to accelerate innovation in this fast-evolving environment.
Three main benefit areas are powered by this new release:
- Accelerated innovation by rapidly meeting changing customer preferences with application-specific workflows
- Heightened collaboration and efficiency with new solutions and targeted user experiences
- Enhanced productivity across the enterprise by leveraging interoperability, synergies and a continuous digital thread
What's new in Simcenter FloMASTER 2020.1
- New pipe models for polymer pipes and non-Newtonian fluids
- FMI import to extend simulation capabilities
- Side-by-side install of different software versions
- Live sensors to easily visualize any results
For Simcenter FloMASTER software 2020.1, a new pipe model enables the simulation of visco-elastic and non-Newtonian behavior. The first capability allows the user to accurately model the nonlinear response of polymer pipes to a pressure surge event while the second responds to the need of industry to model the non-Newtonian behavior of a variety of fluids like slurries, blood and apple sauce, just to cite a few. Look at the following blog posts to discover more about non-Newtonian behavior or visco-elastic pipes.
To boost collaboration and efficiency, Simcenter Flomaster 2020.1 offers an enhanced user experience. Simcenter Flomaster 2020.1 includes Functional Mock-Up Interface (FMI) import for model exchange and co-simulation, further extending its interoperability solutions. Additionally, the new side-by-side install allows users to run different Simcenter Flomaster versions on the same client. Users can now start new projects taking advantage of the new capabilities of the latest version, while maintaining approved versions for old projects. Furthermore, this new version extends the work done on visual physics by introducing live sensors. With live sensors it is possible to display any result at discrete points of the network using numeric results, linear meters or gauges. This allows users to understand the system behavior at a glance.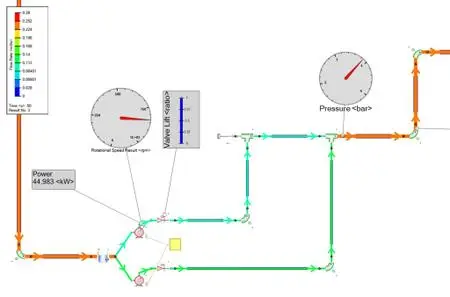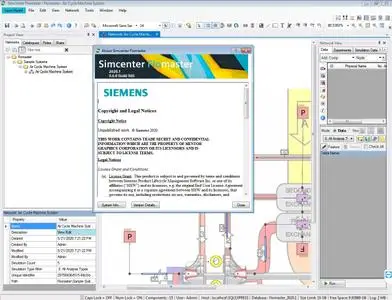 FloMASTER, formerly known as Flowmaster,
is the leading general purpose 1D computational fluid dynamics (CFD) solution for the modeling and analysis of fluid mechanics in complex piping systems of any scale.
Simcenter Flomaster allows engineers to virtually simulate and optimize fluid flows to ensure efficient performance in gas, liquid, and two-phase systems. Executed early in the development cycle, this can improve your time to market and reduce costs by addressing issues when changes can be most effective.
Our product offers in-built empirical data, a large library of components and sample systems to increase engineering productivity. The steady-state and transient solvers allow for rapid component sizing, pressure, temperature, and flow studies system-wide, and monitoring for system performance issues during real world operating conditions such as pressure surge. As part of a large engineering process, Simcenter Flomaster tightly couples with Simcenter FLOEFD for when more detail is needed for a given component and with other system level tools through Functional Mock-up Interface (FMI) for total system of system analysis.
Simcenter system simulation solutions 2020.1
Siemens Digital Industries
is an innovation and technology leader in industrial automation and digitalization. In close cooperation with our partners and customers, we are the driving force for the digital transformation in the discrete and process industries.
Product:
Siemens Simcenter FloMASTER
Version:
2020.1 (9.6.0 Build 980)
Supported Architectures:
x86
Website Home Page :
www.plm.automation.siemens.com
Language:
english
System Requirements:
PC *
Supported Operating Systems:
*
Size:
1.5 Gb
Supported Platforms

Simcenter Flomaster 2020.1 requirements:

Operating system support: Windows 10-x64. Operating systems should include the latest Microsoft published updates.
- Microsoft .NET Framework 4.8or higher is required
- 5 GB available hard drive space for full installation
- Minimum screen resolution of 1280x1024 with normal font size selected and scaling set to 100% (this is the same as setting DPI to 96 pixels per inch).

Database server support:

- Microsoft SQL Server 2017
- Microsoft SQL Server 2016 SP1
- Microsoft SQL Server 2014 SP2
- Microsoft SQL Server 2012SP4
- Oracle Database Server 11g

Note: It is not possible to upgrade databases from releases prior to Flomaster V7.9.4 to Simcenter Flomaster 2020.1.For information on how toupgrade from versions prior to V7.9.4 please raise a service request in Support Center.

Compatible Releases

The following releases are compatiblewith Simcenter Flomaster 2020.1

- Simcenter FLOEFD 2019.2
- Simcenter MotorSolve 6.2 & 6.3
Please visit my blog
Added by 3% of the overall size of the archive of information for the restoration

No mirrors please