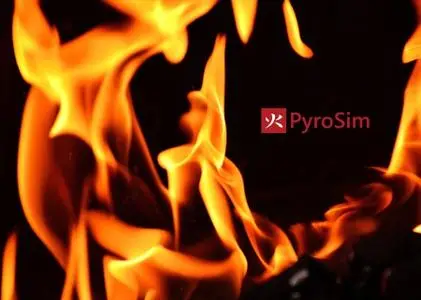 Thunderhead Engineering PyroSim 2019.1.0515 | 381.1 mb
Thunderhead Engineering has unveiled PyroSim 2019.1.0515, is a graphical user interface for the Fire Dynamics Simulator (FDS), whitch helps you quickly create and manage the details of complex fire models.
PyroSim 2019.1.0515 - Date: May 15th, 2019
- This release fixes a bug preventing groups from being deleted in the PyroSim Navigation panel.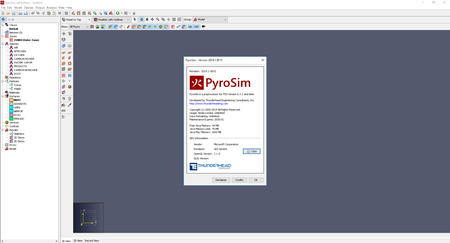 About PyroSim.
PyroSim is a graphical user interface for the Fire Dynamics Simulator (FDS). FDS models can predict smoke, temperature, carbon monoxide, and other substances during fires. The results of these simulations have been used to ensure the safety of buildings before construction, evaluate safety options of existing buildings, reconstruct fires for post-accident investigation, and assist in firefighter training.
FDS is a powerful fire simulator which was developed at the National Institute of Standards and Technology (NIST) (McGrattan, et al., 2013). FDS simulates fire scenariosusing computational fluid dynamics (CFD) optimized for low-speed, thermally-driven flow. This approach is very flexible and can be applied to fires ranging from stove-tops to oil storage tanks. It can also model situations that do not include a fire, such as ventilation in buildings. FDS and the Smokeview visualization program are both closely integrated into PyroSim.
The PyroSim interface provides immediate input feedback and ensures the correct format for the FDS input file. You can work in either metric or English units and you can switch between the two at any time. In addition, PyroSim offers high-level 2D and 3D geometry creation features, such as diagonal walls, background images for sketching, object grouping, flexible display options, as well as copying and replication of obstructions (0). You can import DXF files that include either 3D faces or 2D lines that can be extruded to create 3D objects in PyroSim.
Fire Modelling with Pyrosim
About Thunderhead Engineering.
Thunderhead Engineering Consultants, Inc. develops software, with particular expertise in building intuitive graphical interfaces for specialized engineering and graphics applications that have powerful physics models but are difficult to use. The engineers at Thunderhead Engineering understand modeling and simulation concepts, and also recognize the aesthetics and usability of a well-designed user interface. Both of these strengths are applied to our software development goals. Thunderhead Engineering is dedicated to providing powerful visualization and modeling capability to practicing engineers and technicians.
Product:
Thunderhead Engineering PyroSim
Version:
2019.1.0515
Supported Architectures:
x64
Website Home Page :
www.thunderheadeng.com
Language:
english
System Requirements:
PC *
Supported Operating Systems:
Windows 7 and later or Windows Server 2012
Size:
381.1 mb
Product:
Thunderhead Engineering Pathfinder
Version:
2019.1.0508
Supported Architectures:
x64
Website Home Page :
www.thunderheadeng.com
Language:
english
System Requirements:
PC *
Supported Operating Systems:
**
Size:
324.8 mb
The following table lists system requirements necessary to run results visualization.

Operating System
- Microsoft Windows 7 or newer
- Microsoft Windows 7 N or newer (with Media Feature Pack)
- Microsoft Windows Server 2008 R2 or newer (with Desktop Experience)
Desktop Experience and Media Feature Pack are required due to a dependency on Windows Media Player (wmvcore.dll).

Memory
- 4 GB (required)
- 8 GB (recommended)
Display Adapter
- Support for OpenGL 1.2 (required)
- Support for OpenGL 3.2 (recommended)
Please visit my blog
Added by 3% of the overall size of the archive of information for the restoration

No mirrors please

Please visit my blog
Added by 3% of the overall size of the archive of information for the restoration

No mirrors please