WaterGEMS CONNECT Edition Update 2.3 | 894.8 mb
The Bentley Hydraulics and Hydrology product team are pleased to announce the availability of WaterGEMS CONNECT Edition Update 2.3 (build 10.02.03.06). This release introduce improvements to help you be more successful.
CONNECT Edition Update 2.3 release of WaterGEMS (build 10.02.03.06) - Date: Nov. 21 2019 Model Compatibility
Models saved in this version of WaterGEMS and WaterCAD (10.02.03.XX) can be opened in the earlier CONNECT Edition Update 2 versions (10.02.00.XX, 10.02.01.XX and 10.02.02.XX).
SCADA Element Updates
Several updates to the SCADA Element used with SCADAConnect Simulator in WaterGEMS are included in this release.
Difference and Difference (Relative) result field
These fields display the difference between the calculated value for the SCADA Element and the model element. The Difference field is the absolute value, while the Difference (Relative) is displayed as a percentage.
Tank Status
The tank status, i.e., if the tank is filling or emptying, is now available as a Field for the SCADA Element. If the user has SCADA data related to the status, the user will now be able to compare the status in their SCADA data to the results in WaterGEMS.
Alerts
SCADA Elements can now to used in the Alerts, allowing the user to create custom notifications related to the given results, including Model Result Value, Historical Signal Value, Difference, and Difference (Relative). So if you wanted to see an alert if the relative difference between the model result and the SCADA value was above a certain value, you can set this up.
SCADAConnect Simulator Updates
In addition to the updates to the SCADA Element, improvements and updates to SCADAConnect Simulator in WaterGEMS are also included, which will enhance and improve the usage of SCADAConnect Simulator.
Automatically Import Control Overrides
This will allow the user to automatically import control overrides when using the Historical or Historical (Live Training) simulation modes. If there are control overrides that are outside of the Difference Tolerance value, the control overrides will be automatically imported. The user can opt to set this automation field to False and manually update the control overrides.
Outage visualization when modeling Pipe Breaks
The user can now display the outage segments on the drawing when modeling a pipe break. This will be useful for an operator wants to see the pipe segments that will be offline when a pipe break is isolated. An outage polygon can also be displayed, giving the operator a good visual representation of the impact of an outage.
Pump Status FlexTable and graphing of Pump Status
A new Pump Status FlexTable has been included with this release. This will show results at a given time step for the pumps in a model, as well as sparkline that will display how the status changes with time. In addition, you can now graph the pump status directly from the Graph manager.
Stability enhancements and fixes to reported issues
As with all new versions, this release includes fixes to various user-reported issues from the previous release, providing an overall more stable experience.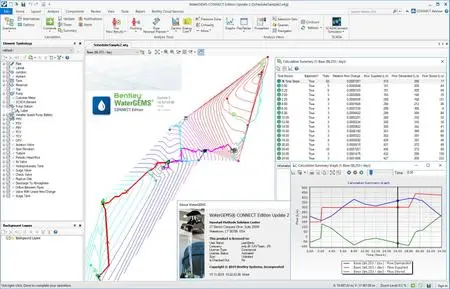 WaterGEMS
is a hydraulic and water quality modeling solution for water distribution systems with advanced interoperability, geospatial model-building, optimization, and asset management tools. From fire flow and constituent concentration analyses, to energy consumption and capital cost management, WaterGEMS provides an easy-to-use environment for engineers to analyze, design, and optimize water distribution systems
Bentley's Martin Pflanz demonstrates the basics of automated fire flow analysis in WaterCAD and WaterGEMS.
Bentley Systems, Incorporated
is a global provider of collaborative software solutions that enable our users to create, manage and publish architectural, engineering and construction (AEC) content. As a part of those solutions, Bentley provides professional services including implementation, integration, customization and training.
Product:
Bentley WaterGEMS
Version:
CONNECT Edition Update 2.3 (version 10.02.03.06)
Supported Architectures:
x64
Website Home Page :
www.bentley.com
Language:
english
System Requirements:
PC *
Supported Operating Systems:
*
Size:
894.8 mb
The minimum system configuration for installation:

Operating System: Windows 7, SP1 (32bit/64bit), Windows 8, 8.1 (32bit/64bit), Windows 10 (32bit/64bit)
Software Prerequisites: Microsoft .NET Framework version 4.5 (Installer will attempt to download and install this prerequisite if it is not present during installation)
Platform Requirements: Bentley WaterGEMS CONNECT does not require any additional CAD software to work as a standalone application. However WaterGEMS CONNECT can run on the following platforms (if available):
- MicroStation V8i SELECTseries 4 and earlier (CONNECT Edition Integration is not yet supported)
- AutoCAD 2018, 2019, 2020
- ArcGIS 10.7.1

Minimum Profile

The minimum recommended workstation profile for running WaterGEMS CONNECT is:

Processor: As per minimum operating system requirements.
RAM: As per minimum operating system requirements.
Hard Disk: The software itself requires approximately 1.4 Gigabytes (GB) of disk space for installation, and approximately 200 Megabytes (MB) of disk space for optional lesson and sample files. Additional space is also required for user model and data files.
Display: As per minimum operating system requirements.

When running WaterGEMS CONNECTin the AutoCAD platforms, the minimum requirements are superseded by the minimum requirements listedfor those platforms.
Please visit my blog
Added by 3% of the overall size of the archive of information for the restoration

No mirrors please