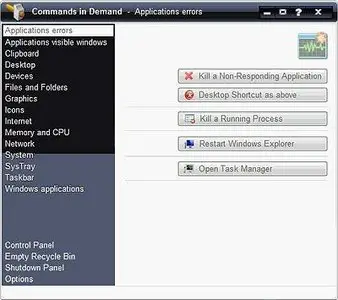 Commands in Demand 9.6 | 7.45MB
A collection of more than 70 commands that may be needed instantly for a purpose while working with Windows.
Easily access Windows commands and features that can be hard to find or time consuming to get to.
The program includes shortcuts to terminate non-responsive applications, restart Windows Explorer, view/clear the clipboard, open a command prompt in a selected folder, access system folders, view TCP/IP configuration settings and much more.
Download RapidShare
or
Download MegaUpload
Visit My Blog For Much More