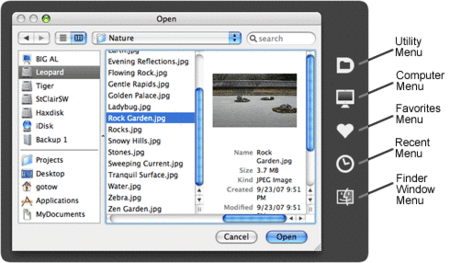 Default Folder 4.3.6 | Mac OS X | 9.6 MB
Default Folder X improves the Open and Save dialogs in Mac OS X. Its hierarchical menus, large sized previews, multiple sets of favorites, easily accessible lists of recently used folders, integration with the Finder and Spotlight, and system-wide menu for accessing frequently used files and folders save you time and frustration.
What's new in Default Folder X 4.3.6
Fixed the handling of recently used folders in Carbon applications such as Photoshop, InDesign, Word, Excel and Firefox.
Default Folder X works in Google Chrome when attaching files in Gmail, uploading videos to YouTube and other situations in which Ajax or Flash code brings up a file dialog.
Default Folder X now uses Sparkle to check for and install updates automatically.
Clicking in column headers in the preference pane sorts the list correctly.
You can drag any file or folder onto the Default Folder X icon in the Dock to Get Info on it.
A new 'Tell a Friend' button in the preference pane creates an email for you in your default mail program so you can tell a friend how great Default Folder X is.
Added a new option to set a minimum default size for the sidebar in all file dialogs. Run Terminal and execute this command:
defaults write com.stclairsoft.DefaultFolderX minimumSize.sidebarWidth 180
Worked around a bug that caused a white "ghost" of Default Folder X's toolbar window to appear at seemingly random times.
Remembering column sizes and the size of the sidebar was broken in Snow Leopard. It is now fixed.
After creating a new folder, the file dialog didn't always switch to show that folder as it should have. This has been fixed.
Corrected a problem that could cause Default Folder X to get its state confused, thinking a file dialog was still open when it wasn't. This contributed to problems with rebound and Default Folder X windows showing up at random times.
The option to Open and Save to the same folder was getting confused in Carbon applications, causing them to start in the wrong folder. This has been fixed.
The Get Info command now works much more smoothly in Leopard and Snow Leopard.
Fixed a compatibility problem with PhotoMechanic.
Fixed the GetInfo command when running on Tiger.
Fixed a bug that caused the Dock menu not to appear when running on Tiger.
Changed the sort order for files and folders in the path menu of Open and Save As dialogs so it's consistent with the Finder's sorting.
Default Folder X will no longer query the size of disk drives unless "Show disk space" is turned on in the preferences. This helps keep sleeping drives from spinning up.
Added a defaults setting to print progress messages to the Console during the OpenMeta upgrade process. In order to turn them on, open Terminal and type this command:
defaults write NSGlobalDomain OMUpgradeDebugLevel 1
To turn the progress messages back off, execute this command in Terminal:
defaults delete NSGlobalDomain OMUpgradeDebugLevel
Fixed a bug so the "Show hidden Finder windows" setting works again.
Mac Platform: UB
OS version: Mac OS X 10.4 or later
Link for more information:
http://www.stclairsoft.com/DefaultFolderX/index.html