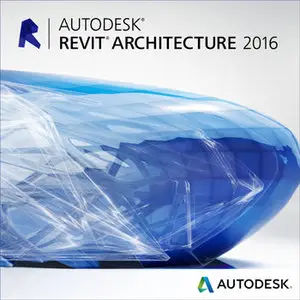 Autodesk Revit Architecture 2016 SP1
Graphics and CAD | Original Install File | OS: Windows 7/8/8.1 (x64) | 3.19 GB
Languages: Italian
Crea progettazioni architettoniche più precise e di qualità più elevata con strumenti sviluppati appositamente per workflow BIM (Building Information Modelling). Revit® asseconda le idee di architetti e progettisti per consentire la realizzazione di progetti architettonici di qualità superiore, grazie a una maggiore precisione. Osservate le funzionalità per sapere come utilizzare gli strumenti di progettazione architettonica sviluppati per supportare i workflow Building Information Modeling (BIM). È possibile acquisire e analizzare le idee progettuali e rappresentarle fedelmente durante tutto l'iter progettuale (progettazione, documentazione e costruzione).
Componenti parametriche
Utilizza le componenti di costruzione intelligenti per migliorare l'accuratezza del progetto.
Associatività bidirezionale
Ogni modifica apportata al progetto viene automaticamente propagata in tutto il modello.
Scopri le caratteristiche per la progettazione strutturale
Tutte le funzionalità di Revit in un portafoglio di applicazioni integrate per la progettazione architettonica.
Condivisione del lavoro
Più utenti possono lavorare contemporaneamente sullo stesso modello di costruzione intelligente.
Modellazione per l'architettura
Migliora l'analisi di fattibilità delle componenti degli edifici.
Software per il BIM
Autodesk® Revit® fornisce strumenti di supporto alla progettazione architettonica, all'ingegneria MEP, alla progettazione strutturale e alle costruzioni. Appositamente sviluppato per il Building Information Modeling (BIM), Autodesk Revit consente di progettare, costruire e gestire edifici di qualità superiore e con una maggiore efficienza energetica. Grazie alle sue funzionalità complete è la soluzione ideale per tutto il team del progetto edile.
Analisi energetica delle componenti dell'edificio
I modelli Revit dettagliati consentono di eseguire l'analisi energetica.
Modello analitico strutturale migliorato
I miglioramenti al modello analitico consentono di comprendere rapidamente la connettività degli elementi analitici.
Calcoli per i canali dell'aria e le tubazioni nell'API
I calcoli per i canali dell'aria e le tubazioni sono stati spostati nell'API, permettendo l'uso dei calcoli locali con Revit.
NOVITA SP1
http://knowledge.autodesk.com/sites/default/files/file_downloads/AutodeskRevit2016-SP1ReleaseNotes_ita.html
Home Page
:
http://www.autodesk.com
If you like this software please support Developer and BUY it.
How use .REV files CLICK HERE
Please DO NOT MIRROR
>>> Visit My Blog Here <<<
Subscribe to My Newsletter!
If you'll find that my links are dead please let me know through the Private Messages.