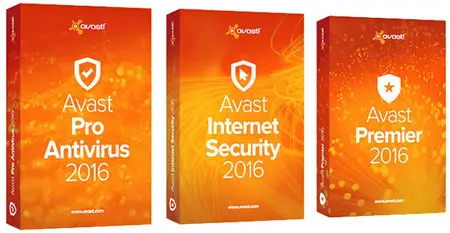 avast! Pro Antivirus / Internet Security / Premier 2016 v11.2.2729.0
Security | Original Install File | OS: Windows XP/Vista/7/8/8.1/10 (x64x86) | 215 / 216 / 222 MB
Languages: English, Arabic, Belarusian, Bengali, Bulgarian, Catalan, Chinese, Croatian, Czech, Danish
Dutch, Estonian, Finnish, French, German, Hebrew, Hindi, Hungarian, Indonesian, Italian, Japanese, Korean
Latvian, Malay, Norwegian, Persian, Polish, Portuguese (Brazil), Portuguese (Portugal), Romanian, Russian
Serbian, Spanish, Slovak, Slovenian, Swedish, Thai, Turkish, Ukrainian, Urdu, Vietnamese
Our most advanced security suite adds military-grade data shredding and automatic software updates in addition to antivirus, firewall, and Home Network Security. avast! is only the most trusted name in antivirus, actively protecting more than 200 million PCs, Macs and Androids.