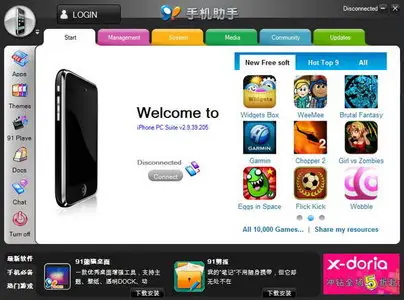 iPhone PC Suite v.2.9.55.237
Windows | .exe | 44.83mb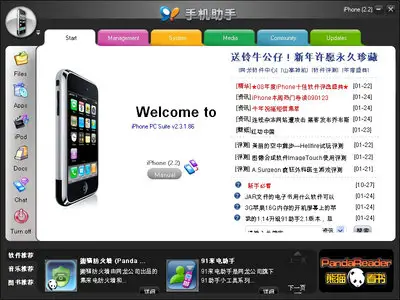 iPhone PC Suite is a mobile phone application that you can use to manage and edit any type of content from your personal computer to your iPhone device.
It is ideal for the people who are continuously connected to their iPhones and who spend a lot of time "playing" with the content in it.
After a brief installation process that checks if you have iTunes installed on your PC (and installs it if you don't), you see the simple yet attractive interface of iPhone PC Suite, with a bunch of colorful buttons (Files, Apps, Pictures, Docs, Chat, and Turn Off) and tabs (Management, System, Media, Community, Updates).
Every feature is quite self-explanatory. You have the option of downloading and uploading pictures from the computer to your iPhone, as well as access and manage the camera, contacts, eBooks, SMS messages, call logs, and notes.
In addition, you can even send SMS messages from your computer via iPhone, backup and restore files and folders, and many others.
When playing around with the software you are not likely to encounter any major difficulties, but sometimes the application might take more time than usual to perform various tasks, especially if you are running Windows 7.
Moreover, there seems to be an incompatibility issue with iPhone PC Suite and some anti-virus and anti-malware solutions as alerts may occur, but the tool itself works perfectly fine.
Nevertheless, iPhone PC Suite can be used by anyone who owns an iPhone and who wishes to manage their content in a much easier way, while also enjoying a well organized interface.
With iPhone PC Suite you'll be able to easily manage and transfer multimedia and other type of content onto your iPhone device easily. iPhone PC Suite it's an alternative to iTunes and in fact it is what iTunes should be!
Note:
Some antivirus and antispyware programs flag iPhone PC Suite as being infected/malware, although the application is perfectly safe and does not pose a threat to your system. This is called a 'false positive'. The term false positive is used when antivirus software wrongly classifies an innocuous ( inoffensive ) file as a virus. The incorrect detection may be due to heuristics or to an incorrect virus signature in a database. [Similar problems can occur with antitrojan or antispyware software.]
Here are some key features of "iPhone PC Suite":
· Download & Upload pics to and from PC and iPhone
· Camera
· Calendar
· Contacts
· SMS
· Photos- works 100% all in FULL RESOLUTION !!!! (upload / download)
· Notes
· eBook
· Call log
· SMS Chat- works 100%, send SMS to someone from PC through iPhone
· Safari, bookmark management
· Finder
· Backup/Restore
· Sound Themes
· Ringtones - they wont get deleted when synced with itunes !!! and the app converts them automatically…!!