01- Registry Mechanic v4.0.0.115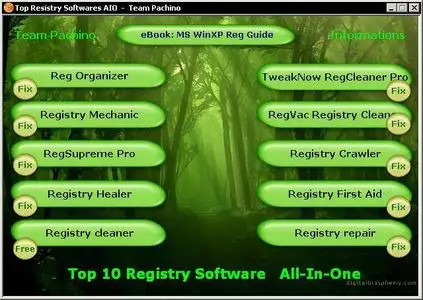 ********************************
With Registry Mechanic you can safely clean and repair Windows registry problems with a few simple mouse clicks! Problems with the Windows registry are a common cause of Windows crashes and error messages. By using a registry cleaner regularly and fixing your registry your system should not only be more stable but it will also help Windows and your software run faster. Learn more about the importance of a clean registry with our registry insight.
Registry Mechanic uses a high-performance detection algorithm to quickly identify missing and invalid references in your Windows registry. These problems can occur for many reasons including being left-behind after the un-installation or incorrect removal of software, by missing or corrupt hardware drivers, or orphaned startup programs.
With a few easy steps Registry Mechanic will scan your entire registry for any invalid entries and provides a list of the registry errors found, you can then choose to selectively clean each item or automatically repair them all. For your convenience and protection Registry Mechanic can also make a backup of any repairs made so that you can easily recover any changes if required.
Registry Mechanic feature highlights
- Registry Mechanic is the world's · most popular registry cleaner
- Repair invalid registry entries that are a common cause of Windows crashes and error messages
- Improve system performance and stability by removing orphaned references
- Scans your hard drive for invalid and incorrect program shortcuts
- Safely make backups of any registry change made by Registry Mechanic
- Unlimited free upgrades and e-mail technical support for one year
02- RegSupreme 1.2.0.27
**********************
Compact in design yet offering amazing performance, RegSupreme Pro is the latest addition to the RegSupreme series.
Key features:
- Clean your computer's registry with one of the most advanced registry cleaner available today
- Find and remove hidden traces of any installed software
- Manage which programs automatically start with Windows
- Uninstall or remove software from Windows' Add/Remove software list
- Remove operating system interface features you don't need
- Remove unneeded file types
- Remove unneeded shell extensions
- Remove items from Internet Explorer's context (right click) menu
- Modify Windows' Open With menu
- Automatic repair of found problems
- The multilingual user interface allows you to use the program in all major languages or to translate it into your own language very easily
- The automatic backup feature makes backups of everything the program removes or modifies
- Full documentation included
03- TweakNow RegCleaner Professional 2.5.2
******************************************
The Registry is a heart and soul of any Windows system. It contains information that controls how your Windows appears and how it behaves. Most applications today use registry to store configuration and other important data. When you install an application, a new registry entries will be created. This entries will automatically be deleted when you uninstall the application. Unfortunately, it is not always work that way. Sometimes, you will find that some applications fail to remove their own registry entries. This entry will become obsolete.
After a long period, after installing and uninstalling a lot number of applications, your Windows registry will contain a large number of obsolete entries. This will significantly increase the registry size and thus will slowdown your computer, because Windows will need more time to load, search, and read data from registry.
To keep your computer in top performance, it is recommended to periodically clean your Windows registry.
04- Registry First Aid 4.1.0 Build 708
*************************************
Some of the great features of Registry First Aid:
- Easy to use step by step Wizard type interface.
- Registry First Aid scans registry for orphan file/folder references.
- Quickly finds these files or folders on your drives (if they're moved from initial locations).
- Corrects registry entries to the located objects.
- If your registry still retains links to files of deleted applications, Registry First Aid will find these invalid entries and help you to easily remove them.
- With this powerful tool, your Windows registry will be always clean and correct!
05- RegVac Registry Cleaner 4.02.04
***********************************
RegVac - Eight Tools to Clean your Registry
Why buy several programs to clean your registry when RegVac will do it all and more. Some of the tools in RegVac are not available anywhere else. The tools are listed below. RegVac has a Novice Mode which cleans the Registry with one button.
Tool #1 - Classes Vac
Similar to RegClean, Classes Vac cleans the Classes section of the registry.
Tool #2 - Stash Vac
The registry is littered with history lists, recent lists, and tips. This tool removes 27 of the most common stashes and allows you to add the location of more stashes.
Tool #3 - Software Vac
The largest part of the registry is the Software section. This tool searches through the Software section and finds keys that may be left over from long deleted files.
Tool #4 - File Lists Vac
They abound all through the registry, references to files that no longer exist. This vac finds them and removes them.
Tool #5 - Add/Remove Editor
This is actually the popular program, Add/Remove Pro. It checks your Add/Remove Programs list for programs that have already been deleted and allows you to uninstall programs, remove entries, and test entries.
Tool #6 - System Configuration Utility
This is a neat little Windows utility otherwise known as msconfig.exe. RegVac will open it for you. One disadvantage of this utility is that it does not actually remove entries from the registry. It only disables them. RegVac will remove entries disabled by msconfig.
Bonus Tool - Robo Vac
One click of the button cleans up to four sections: Classes, Software, Stash, and File Lists. Robo Scrubber can be set up to run on startup daily, weekly, bi-weekly, or monthly.
Undo It from the Vac Bag
If you want to undo something, the Vac Bag allows you to restore all registry settings removed by RegVac. These Vac Bags may also be restored outside of RegVac. The RegVac can also delete Vac Bags that are over a week old.

06- Registry repair v1.44
*************************
Problems with the Windows registry are a common cause of Windows crashes and error messages.Registry Repair allows you to fix your registry and optimize your PCs performance.With a few easy steps, you are able to find problems caused by invalid entries, references and links in the Windows registry and provides a list of the errors found, you can then choose to selectively repair each item or automatically repair them all.
Registry Repair uses a high-performance detection algorithm to quickly identify missing and invalid references in your Windows registry. These problems can occur for many reasons including being left-behind after the un-installation or incorrect removal of software, by missing or corrupt hardware drivers, or orphaned startup programs.
07- Reg Organizer v2.1
**********************
Reg Organizer is a powerful System Registry and configuration files manager that lets you view, edit and clean the Registry and preview the registry files you want to import (including the ability to preview files directly from Windows Explorer).
The Registry cleanup mode helps you optimize the operation of your system. You can thoroughly search the Registry to find all the keys related to a certain application - Reg Organizer does this job quicker and better than other similar programs.
Here is the list of some Reg Organizer features:
* Ability to find and replace the Registry entries.
* Automatic Registry cleanup.
* Configuration files management (manages various types of configuration files, including the INI files).
* Uninstalling any applications for Windows easily and completely.
* Visual tree-like presentation of the configuration file contents.
* Access to some undocumented Windows features.
The program also has some supplementary functions. With Reg Organizer you can:
* Customize the Open with… context menu.
* Delete items from the Add/Remove Programs dialog.
* Organize the programs that are run on Windows startup.
* Analyze the shared dynamic link libraries (DLL).
08- Registry Healer 4.2.0.build.212
***********************************
Registry Healer is particularly useful if you tend to install and uninstall a lot of programs. By putting it to work, it will help you clear out the junk that commonly fills up the Registry. Unlike similar utilities, this program doesn't simply (and dangerously) remove items from your Registry. It will attempt to correct invalid entries by finding matching folders and files that may have been moved. A separate component lets you select directories to scan. You will be able to instantly "heal" invalid entries, and safely delete some others.
09- Registry Crawler v4.5.04
****************************
Registry Crawler enables system administrators, developers and other power users to quickly find and configure Registry settings. The software provides a powerful search engine that allows you to find Registry information based on a search criterion.
Results are displayed in a list allowing you to access any key found with a single mouse click. Registry Crawler has built in support for 'bookmarks'. You can bookmark any key in the Registry and then access it directly from the system tray. This powerful feature allows you to create a set of Registry keys that you access frequently, eliminating the need to manually open REGEDIT. Registry Crawler uses the REGEDIT tool so you don'p't need to learn how to edit, delete or rename registry keys. It also has built in support for Registry editing, multiple key deletions.
Using Registry Crawler you can search multiple machines on your network and view search results in a single list. An advanced search & replace feature, enables you to quickly change Registry settings on your local PC or any other PC in your LAN.
Users that access the Registry on a daily basis will find Registry Crawler to be a great time saver.
Key Features
:
- Search the Windows Registry for any piece of information quickly and easily. 5 times faster than REGEDIT!
- Bookmark any key in the Registry and access it from the system tray.
- Search & Replace Registry information on multiple computers within seconds.
- Generate HTML or Text reports from your search results for easy printing, saving or analysis.
- View search results in a list allowing you to jump to any of the keys with a single mouse click.
- Fully integrated with the Windows REGEDIT tool.
- Clipboard support for easy copying and pasting of Registry information.
- Search Usenet (newsgroups) for any key or value you find in the Registry.
- Search the Registry on multiple remote computers.
- Delete multiple keys from the Registry with a single click (from the search results window)
- Export multiple keys to a single .REG file.
10-
Registry cleaner v4.3 Build 780 Freeware
***********************************
With RegCleaner, you can easily remove obsolete registry entries from software that you may have deleted ages ago.
What does RegCleaner do?
RegCleaner deletes registry entries. You can delete DLLs with the Shared DLLs feature, and shortcut files with the Startup feature. You don't even have to know what the registry actually is to be able to use RegCleaner.
Why should I use RegCleaner?
You should use RegCleaner because it's a good idea to keep the registry as clean as possible. Here are some examples to help you understand how RegCleaner can truly help you:
1. Say you've accidentally destroyed a nice shareware program what has a 30-day trial period. Later on, when you notice that it's been destroyed, you try reinstalling it, only to find out that you can't, because the program thinks that you're just trying to get another 30 days. If you first remove the program's registry entries, however, you may very well be able to reinstall the software and recover your trial period again.
2. You've found that your favorite program is an older version, and you want to download the latest whiz-bang version. The program, however, doesn't provide any uninstall utility, so you simply destroy its files and cross your fingers. But, as fate would have it,
"Team Pachino"
pachino.roberto@gmail.com
What is registry?
Registry is a database where Windows and programs store their data.
Why do I need to clean the registry
?
when data changes i.e. you delete a file, the registry doesn't remove the invalid data, thus in this case a reference to a non-existent file remains in the registry.
As the registry gets filled with invalid data, Windows and programs consume more system resources to search the database for any data. Therefore your computer gets slower and slower.
Last but not least, passing invalid data to Windows programs can cause severe system complications resulting in system crash, hang and malfunction.
Why do I need to compress or defrag the registry?
After a registry cleanup the invalid entries leave empty spaces, which means the size of the registry remains unchanged.
It goes without saying that loading a small registry is faster than a big one.
pass
ratus
http://rapidshare.de/files/34251112/bTrouptReesistryAIO.ratus.rar