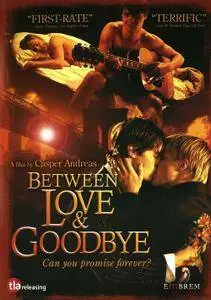 Between Love and Goodbye (2008)
English | DVDRip | MKV | 720x480 | AVC @ 1949 kb/s | 1.48 GB
Audio: AC-3 @ 224 kb/s | 6 channels | 01:37:08 minutes | Subs: English, Spanish (embedded)
Genre: Drama, Music, Romance
Love makes the world go round. At least that's what Marcel and Kyle believe, until they suddenly discover that love can alternatively flip the world upside-down. When certain elements are set into motion, they tend to stay in motion. If tampered with, they can spin out of control. Marcel and Kyle are in love at first sight, and even though they can't legally marry, they will find a way to make it work. French Marcel marries their lesbian friend Sarah so he can stay in the USA with Kyle. Together they can overcome any obstacle, hurdle any barrier. Together they cannot be stopped. Enter Kyle's sister April, a former prostitute. She needs a place to crash, but for how long? Taking a quick dislike to Marcel, April methodically drips poison into their happiness. But where Marcel sees a conniving woman with a not-so-hidden agenda, Kyle only sees his sister - in need. And how do you choose between family and the love of your life? Why should you have to?