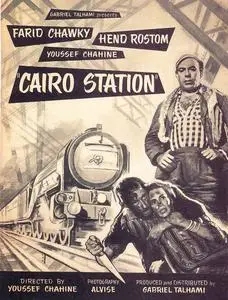 Cairo Station (1958)
DVDRip | AVI | 624x368 | XviD @ 1633 Kbps | 76 min | 955 Mb
Audio: العربية MP3 @ 96 Kbps | Subs: English hardcoded
––-
WEB-Dl 720p | MKV | 1280x720 | x264 @ 4210 Kbps | 73 min | 2,22 Gb
Audio: العربية AAC 2.0 @ 128 Kbps | Subs: English (embedded in MKV)
Genre: Comedy, Crime, Drama
Director:
Youssef Chahine
Writers:
Mohamed Abu Youssef (dialogue), Abdel Hai Adib
Stars:
Farid Shawqi, Hind Rostom, Youssef Chahine
Kinawi, a physically challenged peddler who makes his living selling newspapers in the central Cairo train station, is obsessed by Hannouma, an attractive young woman who sells drinks. While she treats Kinawi in a sympathetic way and jokes with him about a possible relationship, She is actually in love with Abu Sri', a strong and respected porter at the station who is struggling to unionize his fellow workers to combat their boss' exploitative and abusive treatment.
This Egyptian movie is a miracle in itself. It can appeal to anyone in the world and is as good as any great work of any country. All takes place in a station with a frustrated paper boy, living his life vicariously through pin ups photographs, the central character. Round him, lots of secondary characters revolve. He seems an outcast, without any friend, and despised by all the girls around. The work sometimes recalls Jean Renoir's "La Bete Humaine", but with more attention to detail. This is a microcosm which the director films with virtuosity (the editing is stunning ) and his story has a ring of sincerity. Chahine once told he put a lot of himself in his pitiful hero.

The movie does not fall easily into a genre: it is a documentary about a station with street hawkers - Hanuma almost got run over while trying to escape from the Police; it is also a political movie, some of the workers feeling they need an union; it's also a sentimental movie, a young couple about to be parted - strangely the young girl reappears at the very end of the movie; it's a thriller, the scenes in the warehouse compares favorably with Hitchcock and all best film noir directors; it's finally a movie which almost verges on fantasy and horror, with a final as impressive as those of "sunset boulevard" or "whatever happened to Baby Jane?"

There's even an embryonic woman's lib! Let's underline the importance of the wide screen, which makes the director look like an entomologist watching an ant hill with a magnifying glass: "Bab El Hadid", it's all this and more.
(click to enlarge)
DVDRip: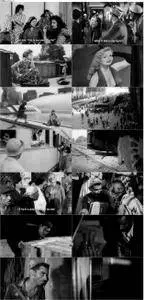 WEB-Dl 720p: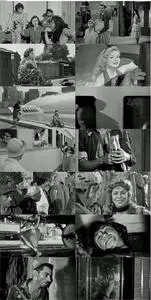 More in My Blog