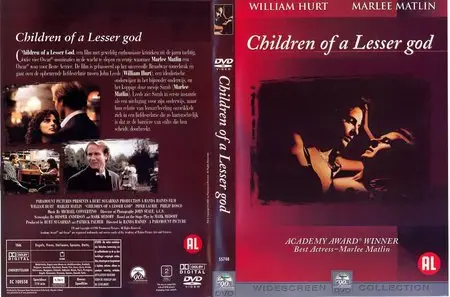 Children of a Lesser God (1986)
DVD9 | ISO+MDS | PAL 16:9 | 01:54:06 | 6,77 Gb
Audio: #1 English, #2 Français, #3 Deutsch, #4 Italiano, #5 Español - AC3 2.0 @ 192 Kbps (each track)
Subs: English (+SDH), العربية, Български, Hrvatski, Čeština, Dansk, Nederlands, Suomi, Français, Deutsch, Ελληνικά, עברית, Magyar, Íslenska, Italiano, Norsk, Polski, Português, Română, Slovenščina, Español, Svenska, Türkçe
Genre: Drama, Romance
Director:
Randa Haines
Writers:
Mark Medoff (stage play), Hesper Anderson (screenplay)
Stars:
William Hurt, Marlee Matlin, Piper Laurie
One of the most critically-acclaimed films of the 80s, 'Children Of A Lesser God' garnered four Academy Award nominations and a Best Actress Oscar for Marlee Matlin. Based on the hit Broadway play, it's the uplifting love story of John Leeds (William Hurt), an idealistic special education teacher, and a headstrong deaf girl named Sarah (Marlee Matlin). At first, Leeds sees Sarah as a teaching challenge. But soon their teacher/student relationship blossoms into a love so passionate it shatters the barrier of silence that keeps them apart.
Some things require experience. If you can hear, it is difficult if not impossible to conceive of what life must be like for a deaf person. Children of a Lesser God, among other things, gives a better sense of that than I would have thought possible. The story is of the complex relationship that develops between a speech teacher at a school for deaf persons and a deaf janitor whose pain and resentment of a troubled past stifle her aspirations to do anything more.




The story is profound, insightful, and something I'd not quite seen before in a movie. Most movies scarcely scratch the surface of their characters and interrelationships, but Children of a Lesser God dives in so deeply and yet with such confidence and competency that it looks easy.

The film is about deafness, yes, but it's much broader than that. The themes within it apply across the board; as such, it is almost impossible not to relate to it in some meaningful way.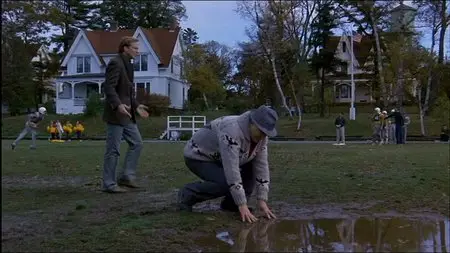 I finally had managed to see Children of a Lesser God on TV one night and I was completely engrossed with it. The magic of the movie is the subtleties in the relationships. James' relationship with his students is handled so as not to look like a repeat cliche of other unorthodox teacher helps introverted students formulas.




The story goes like so: James Leeds arrives to teach at a school for the deaf and using some unorthodox teaching methods helps his deaf students learn to speak so as to better function in the 'hearing world'. Some students are ashamed of their voices so they choose not to speak and rely heavily on sign language. James tries to teach them how to speak and overcome their awkwardness. With his students he is successful, but then he meets Sarah. Sarah was a former student at the school and a good one at that.




She is also a very tough woman at that, and very confrontational, which is what Leeds begins to find attractive about her. But Sarah suffers from a trauma that is directly related to her disability. For years she tried to compensate for her being deaf by being a sex object for boys. Along with this was the fact that she never fully connected with her mother because of her deafness. All these factors turned Sarah against the speaking world because in her mind she was the one who bent over backwards and no one did anything to try and understand her world. This is a problem when she falls in love with James Leeds.




Sarah's distrust of the non-deaf is a social commentary about how we as the non-disabled make the disabled work unfairly hard to fit into the "normal world" and yet we do nothing to try and understand theirs. Sarah's conflict with James is that she accuses him of trying to make his students more like the hearing kind instead of who they are, and she feels that he is trying to d the same to her, which angers her immensely. This is where Sarah's pride hurts her. James at least tries to come into her world and understand it but Sarah refuses to come into his and accept it because of all the pain she has suffered. She refuses to use her voice because that would show her vulnerability.




The relationship between James and Sarah is symbolic. The message is that in a relationship the two must become one and find a middle ground, especially in a tense relationship where one person can hear and the other cannot. James is sympathetic to Sarah's frustration, he even tries to "show" her what his favorite classical song songs like, but Sarah's pain is so far buried that sometimes you feel that his attempts are not working. She tells him that until he can come inside her silence and know what it is like they will never be One.




The world of the deaf is filmed beautifully in the movie. One scene where we see Sarah having a conversation with a group of deaf people communicates the beauty of sign language and the people who practice it. It shows that sign language is another language and that we who can hear should not try to force the deaf to conform to our ways but that we should both try to understand each other's world and then maybe one day we can come together and become One.


Epinions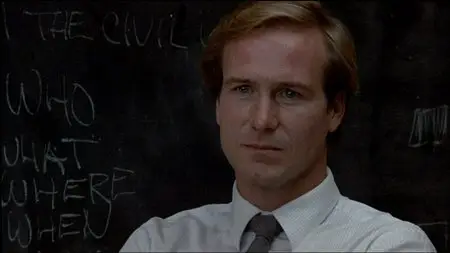 Special Features: Theatrical trailer
All Credits goes to Original uploader.
–––––––––––––––––––––––––––––––––––––––