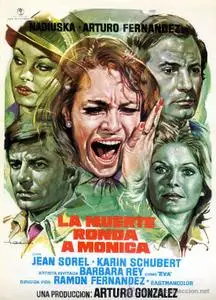 Death Haunts Monica (1976)
DVDRip | AVI | 640x480 | DivX @ 1500 Kbps | 81 min | 968 Mb
Audio: Spanish MP3 @ 160 Kbps | Subs: English (srt)
Genre: Thriller
Director:
Ramón Fernández
Writer:
Juan José Alonso Millán
Stars:
Nadiuska, Arturo Fernández, Jean Sorel
A wealthy woman is implicated in a series of murders, when a company appears to be in trouble and former associates of the board reappear.
A wealthy woman shoots her husband's blackmailer but he won't stay dead in this twisty DIABOLIQUE-like thriller starring handsome devil Jean Sorel, a little league Alain Delon and a much-beloved "mascot" of 60s and 70s Italian gialli. Director Ramón Fernández may have crafted a run-of-the-mill "erotic thriller" in classic Eurotrash fashion but for a "bloodless" (e.g. psychological) giallo, it's never dull and the Eurobabes all get naked, even the titular death magnet, Naduiska, who looks something like Sophia Loren. Teutonic tart Karin Shubert would later go on to make hardcore porn at the age of forty to support her drug habit.
(click to enlarge)

More in My Blog