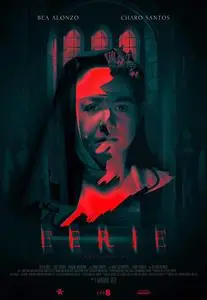 Eerie (2018)
WEB-Dl 1080p | MKV | 1920x1080 | x264 @ 2530 Kbps | 100 min | 2,85 Gb
Audio: Taalog E-AC3 5.1/2.0 @ 640/128 Kbps | Subs: English, Français, Deutsch, Italiano, العربية, 中文, Čeština, Dansk, Nederlands, Suomi, Ελληνικά, עברית, हिन्दी, Magyar, Bahasa Indonesia, 日本語, 한국어, Polski, Português, Română, Русский, Español, Svenska, ภาษาไทย, Türkçe, tiếng Việt
Genre: Crime, Horror
Director
: Mikhail Red
Writers
: Mariah Reodica (screenplay), Mikhail Red (screenplay)
Stars
: Bea Alonzo, Charo Santos-Concio, Jake Cuenca
As we get closer to the wedding day, Lia becomes unsure if she is choosing the right man to marry, torn between the man from her past and the man she's building a future with. The unexpected and gruesome death of a student threatens the existence of an old Catholic school for girls. Pat Consolacion, the school guidance counselor, involves herself with the students in the hopes of helping them cope, and at the same time uncover the mysteries of the student's death. Most students suspect of the strict and borderline abusive Mother Alice, who also threatened Pat's tenure in the school because of her continuous meddling with the case. But Pat's unusual talents lead her to knowing Eri, a former student who's been watching the whole school for years. Piece by piece, Pat uncovers the secret of the school and the monster that it nurtured for the past century.
A Seriously good local horror-drama in a long time, since mainstream bombarded us with trashy comedy robed as horror movies. Mikhail Red took the overused subculture stories of restroom suicide deaths into a smooth yet knotted mystery.

The film quickly builds up great anticipation, an uneasy atmosphere that wails unsettling imagery, all in just the first few gasps of its viewers inside the cinema. The bleak cinematic tonality of the sequences, in combination with James Wan-inspired visual language, works well in setting-up tension.

Red refinedly pulls off good suspense in some events, where notable music score reaches its disturbing peaks. As the mystery untangles, this suspenseful style became monotonous and formulaic for the whole movie. As good as it gets, those repetitions were contradicted by its fast-paced sequence of events - this fueled its smooth narrative and effective character building.

In the midst of the tension, the storyline introduces a contrast between conventional faith and modern approach to mental health. Subtly portrayed that the society even religion contributes to this looming, unresolved complication.

The narrative progression was presented intelligently with its balanced twists-concealment except for its conclusion where it became too spoon-feeding. Nonetheless, the ending relieved the film with its refreshing and fulfilling finale.
(click to enlarge)
More in My Blog