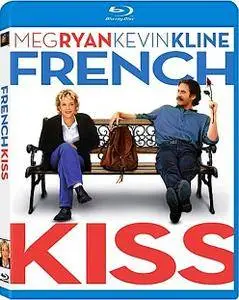 French Kiss (1995)
BDRip 720p | MKV | 1280 x 720 | x264 @ 2560 Kbps | 1h 51mn | 2,34 Gb
Audio: English AC3 5.1 @ 448 Kbps | Subtitles: English (forced + SDH)
Genre: Comedy, Drama, Romance | Director: Lawrence Kasdan
Kate and Charlie have a perfect life planned out before them: buying a house, marriage, kids, the whole works. Kate's fear of flying keeps her in Canada while Charlie goes to Paris for a medical convention. While there Charlie is smitten by the lovely Juliette. He calls off the wedding with Kate and she nervously boards a plane to get him back. She ends up sitting next to the petty French thief Luc Teyssier. He hides a stolen necklace and smuggled grape vine in her bag to get it through customs. Her bag is stolen, the necklace apparently lost, and Kate and Luc head to Cannes – Luc to find the necklace and Kate get Charlie back. Along the way, Kate and Luc begin having feelings for each other – which change the course of their lives.
I just watched this and fell in love! Everything about it was entrancing! Superb acting, fantastic scenery, and you have got to love that soundtrack! I absolutely love Kevin Kline, and he nailed it again in French Kiss. Can I help it if I like him as a French man? Meg Ryan was astoundingly funny. Comedic performances were perfect and the romantic side was so sweet it will break your heart! If you get the chance to see this, whether it be on TV or whatever, watch it. It will make you laugh out incredibly loud (ahem, like me) and cry at its ending (again, like me). I give this a 10 out of 10. But, then again, that is just me. You'll have to check this out to be the judge of that yourself.
(Enlargeable)