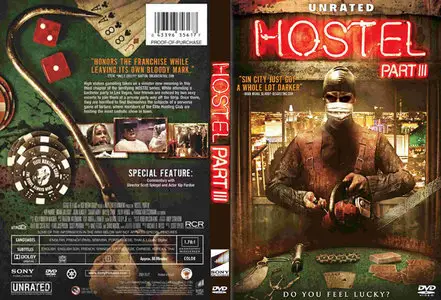 Hostel: Part III (2011) [Unrated]
DVD9 | VIDEO_TS | NTSC 16:9 (720x480) | 01:27:39 | 5,01 Gb
Audio: English AC3 5.1 @ 448 Kbps; French, Portuguese, Spanish, Thai - AC3 5.1 @ 384 Kbps (each track)
Subs: English, Chinese, French, Korean, Portuguese, Spanish, Thai
Genre: Horror, Mystery, Thriller | USA
A Sin City bachelor party leads to unspeakable suffering thanks to the sadistic clients of Elite Hunting Club. When four friends are lured off the Strip by a pair of lusty escorts, they think they're in for the time of their life. But it may be the last mistake they ever make, because the Elite Hunting Club has come to town, and once they've got you, there's no escaping.
IMDB
It really didn't seem like the Hostel franchise had anywhere else to go following the weak, confused, but interesting sequel, Hostel: Part II. But here we are, Hostel: Part III, directed by Scott Spiegel, producer of the first two films, and best known for his underrated slasher Intruder (he also wrote Evil Dead 2). And while this latest sequel had plenty of potential for disaster, it's not a bad follow-up to the first feature.




The setting has moved from Europe to Las Vegas. Sounds gimmicky, I know. But oddly enough, the Vegas angle isn't really played up as much as one would expect. That's likely due to budgetary constraints – a common thorn in this film's side. With the exception of a few exterior shots here and there, this film was clearly shot nowhere near Vegas. (Side note: The casino our characters venture to does look a lot like the off-the-path casino from Vegas Vacation). But don't let that deter you in any way.




This time around, we follow a group of buddies enjoying a debaucherous, drunken bachelor party in Vegas. Our gang winds up in this mysterious club where they meet two prostitutes. Their friend leaves with one of the girls and never returns, so the gang sets out to find him and uncovers an underground operation of human slaying. Basically, it's a dark-as-hell variation of The Hangover, sans the plucky humor. And on the surface, the story template plays like "Hostel-formula 101." But it's in the details where this sequel succeeds. Nearly every cliche of the first two films is turned on its heels here, right down to the clever reverse opening. The twists and turns are genuinely surprising, and the kill scenes, while a bit less disturbing than Eli Roth's films, are often very eerie, not to mention pretty gross.




Alas, while the story has its interesting moments, there are plenty of low-budget trappings that drag this one down. The cast, for starters, is a bit wobbly. While everyone has great chemistry with one another, it's clear the film went through very few rehearsals. Lighting, staging and cinematography feels cramped and flat, with static shots and very little camera movement, or visual nuance. While this might not bother some horror aficionados, I was longing for Roth's more eerie visual style.




The film also shies away from any social/political metaphors, unlike the first two films. The narrative devices are basically the same here, sans the more complex characters (save for one). Here, the characters are all cliches, which is fine for quickly establishing everyone, but not so good when it comes to driving symbolism and metaphor into the story.




Even with the minor faults, Hostel: Part III does work as a solid B-thriller. It's not for haters of the torture porn genre and it's not really much of a horror film, but this Hostel is just as interesting, engaging and curiously voyeuristic as the previous installments. And I dug the horrors it sold.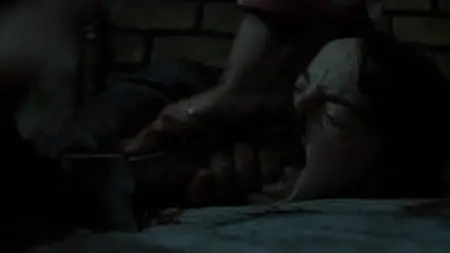 Special Feature: Audio commentary with director Scott Spiegel and actor Kip Pardue
Hostel (2005) [Unrated Cut]
is here –>
LinkHostel: Part II (2007) [Unrated Director's Cut]
is here –>
Link
Many Thanks to Original uploader.
No More Mirrors.