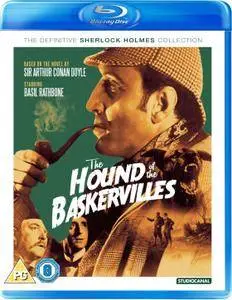 The Hound of the Baskervilles (1939)
BRRip 720p | MKV | 960 x 720 | x264 @ 1875 Kbps | 1h 19mn | 1,40 Gb
Audio: English AC3 2.0 @ 640 Kbps | Subtitles: English (embedded)
Genre: Crime, Mystery, Thriller | Director: Sidney Lanfield
On his uncle's death Sir Henry Baskerville returns from abroad and opens up the ancestral hall on the desolate moors of Devonshire. Holmes uncovers a plot to have Sir Henry murdered by a terrible trained hound. First casting of Rathbone and Bruce as Holmes and Watson.
This film is a delight! Not only does the story unfold at a fine pace throughout the entire film, the atmosphere is wonderfully ominous in many scenes.

It has been so long since I have read any Sherlock Holmes books that I was able to watch the film without any preconceived notions of what to expect and this film is a near masterpiece. It works as a mystery, as a detective story, a suspense story, a buddy film, a romance, a drama and in places it is as about an effective of an horror film as I've seen lately.

For folks that complain that this movie isn't entirely faithful to the Sir Arthur Conan Doyle book it came from, I say, "So What?" Enjoy the book for what it is and do the same with the movie. Very rarely is a movie entirely faithful to an original book and usually for good reason. This movie stands on its own merits as a spectacular film.

Basil Rathbone brings Sherlock Holmes to life vividly. The working relationship between Holmes and Dr. Watson is so well fleshed out on film that it is fun to watch. Holmes disguises are nothing short of entertaining. The young Henry Baskerville is portrayed by a handsome young actor who has screen presence. The spooky "moors" and the Baskerville Estate become a presence just as if they were a character in the film. The entire array of characters introduced to us in this film were all well played and endlessly interesting to watch.

This movie is a must see for folks who like good movies.
(Enlargeable)