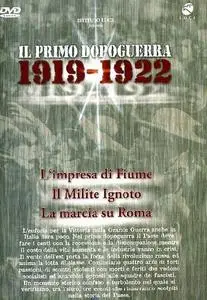 Il primo dopoguerra: 1919-1922 (2006)
DVD Video | PAL 4:3 | 720x576 | 09mn + 44mn + 19mn | 3.64 Gb
DVDRip | MKV | AVC, ~ 1900 kbps | 720x576 | 09mn + 44mn + 19mn | 1,08 Gb
Italian (Italiano): AC3, 2 ch, 224 kbps
Subtitles: Italian (Italiano), English
Genre: Documentary, Short


Director:
Leonardo Tiberi
Writer:
Leonardo Tiberi
Film Distributor:
Istituto Luce
Triptych feature telling three separate episodes of the Italian history in post WWI
- L'impresa di Fiume: The occupation of Fiume/Rijeka by D'Annunzio and his legionari.
- Il milite ignoto: The first cerimonies for the unknown soldier.
- La marcia su Roma: The March on Rome (Italian: Marcia su Roma) was an organized mass demonstration in October 1922, which resulted in Benito Mussolini's National Fascist Party ascending to power in the Kingdom of Italy. Fascist Party leaders planned an insurrection, to take place on 28 October. When fascist troops entered Rome, Prime Minister Luigi Facta wished to declare a state of siege, but this was overruled by King Victor Emmanuel III. On the following day, 29 October 1922, the King appointed Mussolini as Prime Minister, thereby transferring political power to the fascists without armed conflict.
Extras:
- None


Title: IlPrimoDopoguerra.1919-1922.2006.D5
Size: 3.64 Gb ( 3 814 260,00 KBytes ) - DVD-5
Enabled regions: 1, 2, 3, 4, 5, 6, 7, 8

VTS_01 :
Play Length: 00:09:49+00:44:10+00:19:38
Video: PAL 4:3 (720x576) VBR
Audio:
Italiano (Dolby AC3, 2 ch)
Subtitles:
Italiano
English

VTS_02 :
Play Length: 00:00:12+00:00:17
Video: PAL 4:3 (720x576) VBR
Audio:
Not specified (Dolby AC3, 2 ch)
Subtitles:
Not specified

VTS_03 :
Play Length: 00:00:31+00:00:31+00:04:25
Video: PAL 4:3 (720x576) VBR
Audio:
Not specified (Dolby AC3, 2 ch)


Thanks to original uploader of DVD version