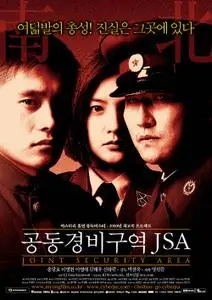 Joint Security Area (2000)
DVDRip | MKV | 708x374 | x264 @ 1023 Kbps | 109 min | 1,07 Gb
Audio: Korean AC3 5.1 @ 384 Kbps | Subs: English (embedded in MKV)
Genre: Action, Thriller
Director:
Chan-wook Park
Writers:
Seong-san Jeong, Hyun-seok Kim
Stars:
Yeong-ae Lee, Byung-Hun Lee, Kang-ho Song
In the DMZ separating North and South Korea, two North Korean soldiers have been killed, supposedly by one South Korean soldier. But the 11 bullets found in the bodies, together with the 5 remaining rounds in the assassin's magazine, amount to 16 cartridges for a gun that should normally hold 15. The investigating Swiss/Swedish team from the neutral countries overseeing the DMZ suspects that another, unknown party was involved - all of which points to some sort of cover up. The truth is much simpler and much more tragic.
I must admit when i first saw the cover of this movie my initial thoughts were "oh man another pointless testosterone military driven movie", how wrong i was.

This is a wonderfully crafted masterpiece that evokes the strongest emotions in a person's heart. The movie is set in Korea and portrays how different people can set asides their differences and be able to see each other in the purest form, that we are the same, brothers and sisters.

I found myself on a roller coaster ride of emotions, laughing one minute, in with tears in another. All the actors and actress have done a superb job in this one. The most emotionally powerful scene was the last scene. Only a photograph but conveys so much meaning and emotions.

Definitely a must watch movie, no matter what nationality you are, you will be enchanted and inspired by this movie's magic, and understand a bit more about what it means to be a person.
(click to enlarge)
More in My Blog