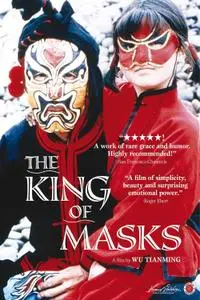 The King of Masks (1996)
DVDRip | MKV | 716x480 | x264 @ 1129 Kbps | 101 min | 941 Mb
Audio: Mandarin AAC 2.0 @ 166 Kbps | Subs: English (embedded in MKV)
Genre: Drama
Director:
Tian-Ming Wu
Writers:
Wengui Chen (story), Minglun Wei (screenplay)
Stars:
Li Chen, Zhaoji Jia, Zhigang Zhang
Wang Bianlian is an aging street performer known as the King of Mask for his mastery of Sichuan Change Art in a true story. His wife left him with and infant son over 30 years ago. The son died from illness at age 10. This left Wang a melancholy loner aching for a male descendent to learn his rare and dying art. A famous master performer of the Sichuan Opera offers to bring him into his act, thus giving Wang fame and possible fortune, but Wang opts for staying the simple street performer. Then, one night after a performance he is sold a young boy by a slave trader posing as the boy's parent. "Grandpa" finds new joy in life as he plans to teach "Doggie" (an affectionate term often used for young children in China) his art. All is well until Doggie is found out to really be a girl.
This spectacular film is one of the most amazing movies I have ever seen. It shows a China I had never seen or imagined, and I believe it shows 1930's China in the most REAL light ever seen in a movie. It is absolutely heart-breaking in so many situations, seeing how hard life was for the characters, and yet the story and the ending are incredibly joyful. You truly see the depths and heigths of human existence in this film. The actors are all perfect, such that you feel like you have really entered a different world.

I simply can not recommend this movie highly enough. It may just change you forever once you have seen it.
(click to enlarge)

More in My Blog