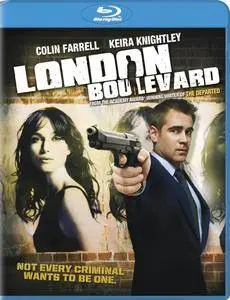 London Boulevard (2010)
BRRip 720p | MKV | 1280 x 692 | x264 @ 2000 Kbps | 1h 43mn | 1,90 Gb
Audio: English AC3 5.1 @ 640 Kbps | Subtitles: English (embedded)
Genre: Crime, Drama | Director: William Monahan
Fresh out of prison, Mitchel wants nothing to do with crime but accepts a kip from Billy, a marginal grafter, and accompanies Billy on rent collection trips. He's also old school, wanting revenge on two youths for assaulting a mendicant he's befriended. He's got a strung-out sister to protect, and he's offered a job protecting a famous actress from paparazzi. The plot lines join when Michael finds himself attracted to the actress and Billy's Mob boss, Gant, finds ways to force Michael work for him. He also warns Michael off revenge against the assailants of his friend. What are Michael's options: is there any way to avoid Gant, protect his sister, and find a path to love?
It just kills me that once again I had the (un)fortunate chance to trust someone with an answer to a simple "Is it any good?" question. People all around me were bashing this movie before I watched it and I heard so many things. I heard it stole the plot from Carlito's Way, I heard the ending was disappointing, I even read comments like "Keira Knightley has no tits and less talent". The only thing I'm disappointed of is myself for believing all of these s… tuff. Yet I'm kind of glad I read and heard all the negative responses, because it caught me off guard even more than it probably would've if I'd seen it without somebody's thoughts.

The acting and script were superb. Knightley's performances almost made my heart skip a beat, Farrel's teeth grinding and weird expressions got me all worked up about his problems, Winstone was giving me the creeps and Thewlis got me laughing out of my breath. "I'm an actor - I can feel anything about anything". Great script, superb acting - if you're a fan of one of the actors in here, a fan of British cinema, a fan of the crime genre or a fan of quality pictures in general - this is the movie for you. Oh and remember - when it comes to art and judgement - trust ONLY yourself! You owe it to yourself to go see this movie!
(Enlargeable)