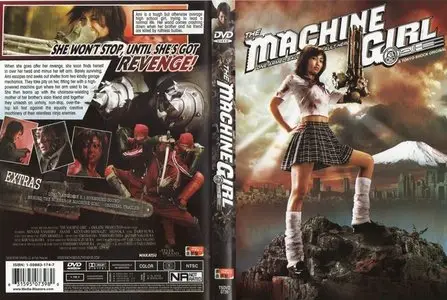 The Machine Girl (2008)
DVD9 | VIDEO_TS | NTSC 16:9 | Cover + DVD Scan | 01:37:08 | 8,19 Gb
Audio: #1 English, #2 Japanese - each AC3 5.1/2.0 @ 448/192 Kbps | Subs: English
Genre: Action, Gore
Director:
Noboru Iguchi
Stars:
Minase Yashiro, Asami, Kentarô Shimazu
Ami is a typical college girl. She's bright, friendly, popular and athletic, with nothing to set her apart from other girls her age other than the fact that she is an orphan, left to care for her younger brother after her father committed suicide after being falsely accused of murder. But while there is tragedy in their past, the siblings' future looks good, except for one thing. Ami's brother has racked up a considerable debt to another boy at school, and that boy just happens to be the heir to a clan of vicious ninja-yakuza. Ami's brother can't pay, violence breaks out and in the course of trying to avenge her brother, Ami is captured by the clan. They torture her and hack her arm right off. Ami escapes, barely alive, and is taken in by the owners of a machine shop who build her a customized, bullet-spewing arm. From that point, the quest for revenge is on in earnest.
The trailer for The Machine Girl, aka Kataude mashin gâru, has these words boldly displayed across the screen: Yakuza, Ninjas, Tempura, Sushi, Chainsaws, Flying Guillotine, Drill Bra (yes, you have read that correctly) and Revenge. Now I don't know about the rest of you, but that sounds to me like a shopping list for an Asian film that I want to watch!!!

Now just to confirm this is what I want to watch, let's have a look at some of the visuals from that same trailer: cute Japanese girl, blood, Ninjas wearing cool red tracksuit styled outfits, blood, disembodies body parts, blood… by now you should get the idea.




Written and directed by Noboru Iguchi, The Machine Girl is a film made by the production company Fever Dreams in Japan, but with a western market in mind, with typical western-perceived stereotypes of Japanese cinema like ninja and yakuza. Even the movie poster has the Machine Girl wearing the loose ankle socks that have not been fashionable in Japan for several years, but are still seen as very Japanese by the west. The female leads of this film are almost Meyer-esque in their single-mindedness and their drive (but not their stature) and Iguchi is clearly influenced heavily by the Sukeban flicks of the seventies (though sans any nudity), and also maybe the USA gore flicks of the 80s, if not the blood-fests of fellow countryman Takashi Miike.




The Machine Girl tells of Japanese schoolgirl, Ami (popular Gravure model and Snoopy aficionado Minase Yashiro) whose younger brother and his friend have been mercilessly tortured by the son of a local Yakuza boss, which results in their death. Ami goes on a revenge spree against the Yakuza, which finds her captured and tortured by the boss, to the point that her left arm is fully removed.




Being a tenacious lass, Ami manages to escape the Yakuza and ends up at the auto garage of her brother's friend. His mother Miki (Asami) is mourning the loss of her only son hard, and she and her husband decide to assist Ami in her revenge, and so they create several weapons for her to be able to attach to the stump where her left arm used to be.




Now fully armed (if you'll excuse the pun) Ami, with Miki, goes to complete her bloody revenge…

With the treasure trove of violent film staples (and then some) featured in this film, I have a name for the category it sits in: Everything-But-The-Kitchen-Sink-sploitation. Decapitation, dismemberment, split bodies, hot oil burns, electrocutions, blood sprays… this is a list that could go on and on! The icing on the cake is most of it is performed by a cute Japanese girl in a school uniform.




There are no doubt the special effects, some by Japanese SPFX artist Yoshihiro Nishimura are sub par, but that is more a reflection of the lower end budget rather than of the talent involved. The mutilated victims are obviously dummies, and the CGI at times sticks out like the dog's proverbials, but this isn't supposed to be a high concept, gigantic budgeted, Academy Award nominated piece of art. It is The Machine Girl, an ass-kicking, sexy super heroine for the Toxic Avenger set.




And I freakin' love it!

Imagine if the guy who made The Story of Riki made a Mighty Morphin Power Rangers movie with a sukeban school girl as the heroine and a young Peter Jackson doing the SPFX. Yeah, it's that crazy!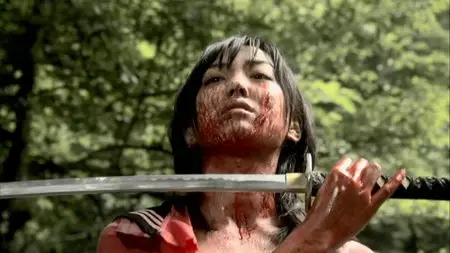 Special Features:
- "Behind the Scenes of 'The Machine Girl'" featurette
- Bonus Trailers: "Heroes Two", "Death Trance", "Lone Wolf & Cub TV", "Zebraman"
- Theatrical Trailer
All Credits goes to Original uploader.
No More Mirrors, Please.
05E41270D1EFE5AEDD5752F44B982A02 *MACHGIL.avaxhome.ru.part01.rar
A33A62C379CD55EB1A0C3D8EB26EE490 *MACHGIL.avaxhome.ru.part02.rar
5EAC94B58B1C29C247805E692AB28D96 *MACHGIL.avaxhome.ru.part03.rar
AABD414FA72E2D37E2BF8157EEF780F0 *MACHGIL.avaxhome.ru.part04.rar
20A4DFF74F9EC12CA82B4C3A22DE9CF8 *MACHGIL.avaxhome.ru.part05.rar
A0535332D04D7C4646E4BEE730EA0411 *MACHGIL.avaxhome.ru.part06.rar
BBEECEEB6ECD003E97169810919288D6 *MACHGIL.avaxhome.ru.part07.rar
DFA8A09403C17954796C597CED22F4FD *MACHGIL.avaxhome.ru.part08.rar
DB6CFE2868A87EE44CCE19F3B1D12BA1 *MACHGIL.avaxhome.ru.part09.rar
63620C53BE7B0FCBDE655DEE6061BC26 *MACHGIL.avaxhome.ru.part10.rar
AE99A82E856703597EFD5F891CE02E17 *MACHGIL.avaxhome.ru.part11.rar
51DB7B9B2E72AE0F537988963900A39C *MACHGIL.avaxhome.ru.part12.rar
96288F8EE0A4E5EFEE858A181F001073 *MACHGIL.avaxhome.ru.part13.rar
8E7D3D6697B810B306A4BDD98838DFFC *MACHGIL.avaxhome.ru.part14.rar
C8FB952E0CAEE10507CAECD69915B5A5 *MACHGIL.avaxhome.ru.part15.rar
2F892BCD7D3EACB7E90399C2F63A43BD *MACHGIL.avaxhome.ru.part16.rar
0D1EE7868339BA921250881AD7481787 *MACHGIL.avaxhome.ru.part17.rar