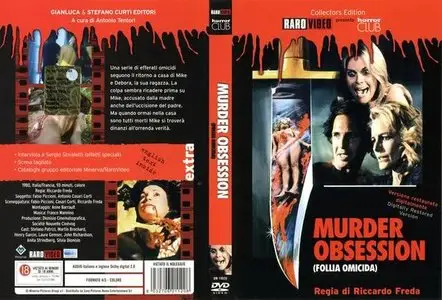 Murder Obsession (1981)
DVD5 | VIDEO_TS | PAL 4:3 | 01:33:06 | 4,04 Gb
Audio: #1 English, #2 Italian - AC3 2.0 @ 192 Kbps (each track) | Subs: None
Genre: Horror, Mystery, Giallo
Director:
Riccardo Freda
Stars:
Stefano Patrizi, Martine Brochard, Henri Garcin
Michael is a successful actor, but he has a scandal in his past: at a tender age he knifed his father to death. He and his girlfriend Deborah go to his mother's for the weekend, and are joined by the director and others from a recent film project, who are given a rather cool reception by the superstitious housekeeper Oliver. Soon rude things begin happening to some of the guests, and Michael fears a repeat of his nightmare past is in progress.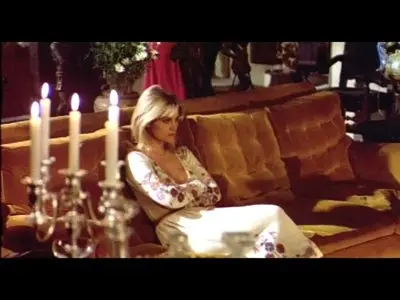 Michael Stanford (Stefano Patrizi) is a film actor who decides he needs to return to the bosom of his mother out in the country. Long has it been since he was last there, and he takes his lady friend Deborah (Silvia Dionisio) with him. He also invites some movie friends to come stay and do some location scouting. Say hello to Hans the director (Henri Garcin), Shirley the assistant director (Martine Brochard), and actress Beryl (the exotic Laura Gemser), as they join in on the fun. Not joining in on the fun is Michael's mamma Glenda (Anita Strindberg), the domineering and borderline incestuous lady of the mansion. She doesn't like her son's "secretary" muscling in on his affections. Also in the house is Oliver (John Richardson), the butler with the robotic emotions.




Michael has a bit of a dark past. He murdered his own father, the maestro, who in a fit of rage was beating the young boy's mother. Michael was swept away to the loony bin until adulthood and his crime wiped off the books. Now he's having more trouble, in the form of nearly killing his co-star Beryl, and a trip back home is just the thing needed. Once the gang is all there, Michael's history is revealed to the others and when bodies start turning up Michael seems the likely culprit. But others in the mansion seem to be capable of wearing the black leather gloves and so it becomes as case of whodunit, and the result may not be all that surprising.




Murder Obsession has what fans of giallo come to expect from their beloved genre: gothic atmosphere, lots of bloodshed, tons of nudity, and an eclectic musical score. This one delivers those elements in spades, but man is it slow to get going. And once it does get going it's all over the place, jumping to flashbacks and full of dream sequences and visions, and at times gets a bit confusing. The shifts backwards and sideways don't transition all that well, although once the movie is done it doesn't really matter because plenty of explanation is provided.




Visually the movie has plenty to offer, with a mixture of tranquil nature settings and dark shadowy rooms, and there's some great photography. No shortage of the ladies minus clothing helps things along too, and Silvia Dionsio certainly allows the viewer a healthy eyeful of her dairy farms, which is nice. Laura Gemser looks as amazing as she always does, and Anita Strindberg looks great too. She even gets a shout out although she never gets naked. Her dog, on the other hand, didn't stop yapping the entire time it was on camera. What? There were men in this movie? The music in this one kind of hurt things though. It was often unfitting for the scene being played out, and at times seemed like it was miscued. The music was great, mind you, just wrongly applied.




There's great stuff on screen; some of it laughable (axe to head), some of it pretty creepy (inappropriate mother-son embraces), some of it clumsy (crew member in a mirror), but all of it is plenty atmospheric. It's not up there in the best of genre, and certainly not a jumping-on point for new comers to giallo, but entertaining nonetheless, once it gets past the first half.




Slow to start but worth the wait, Murder Obsession shouldn't disappoint. Raro did a nice job with the presentation of the film, even if the extras are slim, and it will make a nice addition to any collection.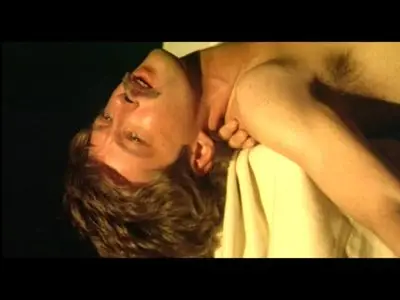 Special Features:
- Interview with Sergio Stivaletti (special effects make-up artist) (in Italian with English subs)
- Scene not present in Italian version
All Credits goes to Original uploader.
No More Mirrors, Please.
0600A3620FE133241BDD7BAA0251B301 *Murobs.avaxhome.ru.part01.rar
7FCC3AC7206AC95A4FD748A2B2B5182F *Murobs.avaxhome.ru.part02.rar
9E1B2B93C3D209AE0432AB4229F8A4B3 *Murobs.avaxhome.ru.part03.rar
F42620CA8903EFA1DC4D8F659473C9A3 *Murobs.avaxhome.ru.part04.rar
62E19DA18A433F524160B5B08E9B861D *Murobs.avaxhome.ru.part05.rar
346B410C99EE879F6350450E42AD301B *Murobs.avaxhome.ru.part06.rar
19B40F55A42C6AEDCE61D2238D486E22 *Murobs.avaxhome.ru.part07.rar
F03AB828F501A7695BB9E1A24C8A4D81 *Murobs.avaxhome.ru.part08.rar
C4E1BB245139F53EEAF15E9426A35F6E *Murobs.avaxhome.ru.part09.rar