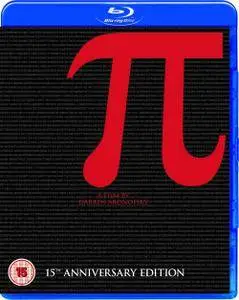 Pi (1998)
BDRip 720p | MKV | 1280 x 720 | x264 @ 2096 Kbps | 1h 24mn | 1,33 Gb
Audio: English AC3 2.0 @ 160 Kbps | Subtitles: English (embedded)
Genre: Drama, Mystery, Horror | Director: Darren Aronofsky
Surreal psychological drama written and directed by Darren Aronofsky. Maximillian Cohen (Sean Gullette)'s obsession with numbers is causing him migraines and his former teacher Sol (Mark Margolis) advises him to take a break from trying to discover patterns in the stock market. However, when Max's computer crashes after predicting a market collapse and spitting out a 216-digit number, Max initially dismisses it. That is, until the prediction comes true, and he realises that the number which he consigned to the trash could be the key he has been searching for.
Pi is the oddest, hippest, most chilling account of the descent into the abyss.

Following mathematical clues derived from an analysis of the stock market, Maximillian Cohen begins his descent into madness as he attempts to discover the nature of everything through the peculiar numerical entity known as Pi.

Thrilling enough, but then combine with generous amounts of Kaballistic mysticism, black and white footage and a soundtrack like an audible fractal, and you have a sensory snare which drags you along for the ride into Max's impending breakdown.

Obsession has never been so exciting.

Pi is an utterly gut-wrenching, mind expanding phenomema. If you have ever wondered about the universe, God or the nature of insanity, Pi will take you where you don't want to go.
(Enlargeable)