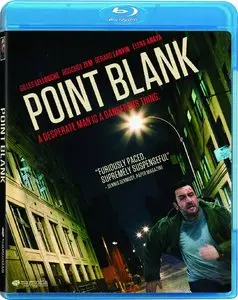 Point Blank (2010)
Full BluRay 1:1 | 1080p MPEG-4 AVC @ 28136 Kbps | 01:24:13 | 26,37 Gb
Audio: English DTS-HD MA 5.1 @ 2175 Kbps; French DTS-HD MA 5.1 @ 2109 Kbps
Subtitles: English Titles and Text Only, English (SDH), Spanish, none
Genre: Action, Crime, Thriller | France
Samuel is a nurse working at a hospital when his pregnant wife is kidnapped before his very eyes. Knocked unconscious, he comes to and discovers that a dangerous criminal named Sartet is responsible, and if he's ever to see his wife again, he must do Sartet's bidding. Samuel quickly finds himself pitted against rival gangsters and trigger-happy police in a deadly race to save the lives of his wife and unborn child.
IMDB
DVDBeaver
"Point Blank" is not a French remake of the classic 1967 John Boorman flick that starred Lee Marvin; that would require being mean down to its very bones, and this one is a shade or two warmer than that - although that's a double edged sword; letting us like these characters means we can get hurt along with them.




Take Samuel Pierret (Gilles Lellouche); he's a good guy. He pampers his pregnant wife Nadia (Elena Anaya), looks the other way when the other nurse's aide is goofing off, and responds quickly when somebody cuts the respirator one of the patients is attached to. He's just arrived home from that eventful day when someone breaks into his house, kidnaps Nadia, and tells him to get the unconscious man, one Hugo Sartet (Roschdy Zem) out of the hospital by noon. That puts him in a heap of a mess, not only from two different groups of criminals, but two competing detectives (Gérard Lanvin and Mireille Perrier).




There's an impressive efficiency to the script by director Fred Cavayé and co-writer Guillaume Lemans; they've got three or four chase scenes in mind and everything in between is meant to get the characters running again. They're not obvious in their intent; they put some work into making sure that actions are almost never motivated by people being unreasonably stupid and there are enough surprises and plot twists to engage the audience's curiosity. Cavayé and company just don't go overboard; they don't give every cop a subplot or delve into the motivations behind the crime that Sartet is fleeing at the start beyond what's satisfactory. Many thrillers will pile masterminds and reversals ever-higher to keep the audience in a state of unbalanced shock; Point Blank prefers to quite literally cut to the chase.




It's got quite a nice selection of chases and showdowns to cut to, as well. Cavayé and cinematographer Alain Duplantier start off with a set of nifty shots that quickly establish just how tight a spot Sartet starts in and cap that sequence off with a hit nasty enough to make the audience wince. The filmmakers don't really come up with any new scenarios over the course of the movie, but they execute the standards unusually well: The average moviegoer has seen someone pursued through a subway station a couple dozen times (at least!), but seldom this well, with Cavayé giving us a good sense of the place's geography and keeping the competing factions at work a persistent tingle in the backs of our brains. The finale brings that tension to the forefront with a nifty and crowded belly-of-the-beast scenario.




An impressive amount of that tension comes from the way the cast attacks their parts. Roschdy Zem, for instance, plays Sartet much harsher than the equivalent character is often presented in other movies. That's important, because if the guy allied with Sam feels dangerous and amoral, then the guys holding Nadia could do anything (especially since this is a French film, and they don't mess around these days). It's not a one-dimensional performance, but the differences in attitude over the course of the movie are suitably subtle for its relatively short timeframe. The same goes for Gilles Lellouche; he does a nice take on the panicked but resourceful everyman, not becoming a superhero as the movie goes on but getting a little more capable. He's got a nice chemistry with Elena Anaya, enough to carry through the movie. They've got a fine collection of antagonists, too - Bruce Fournier is laid-back as crime boss Marconi, and Claire Perot is genial as the detective who does the most legwork. Gérard Lanvin and Mireille Perrier give Commandants Werner and and Fabre a history without much exposition - Lanvin capturing a certain air of privilege and Fabre looking like she's fought for everything she's achieved.




None of these characters or situations are ground-breaking; "Point Blank" is not looking to re-invent the wheel. It's not perfect - the script contains a couple more shortcuts than I might like - but it moves and keeps the outcome in question until the end. That's what a thriller is supposed to do, and this one does it quite well indeed.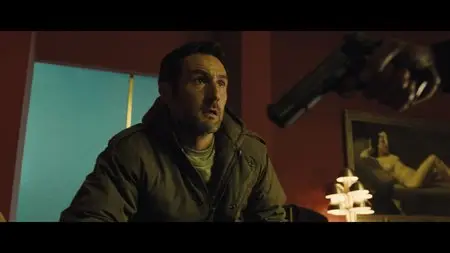 Special Features:
- Behind the Scenes Documentary (50:01)
- Trailer (2:04)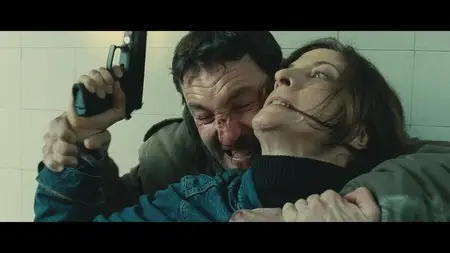 DISC INFO:
Disc Title: Point Blank 2010 BluRay 1080p AVC DTS-HD MA5 1-TTG
Disc Size: 27,469,200,415 bytes
Protection: AACS
BD-Java: Yes
BDInfo: 0.5.4

PLAYLIST REPORT:

Name: 00004.MPLS
Length: 1:24:13 (h:m:s)
Size: 21,767,688,192 bytes
Total Bitrate: 34.46 Mbps

VIDEO:
Codec Bitrate Description
––- –––- –––––-
MPEG-4 AVC Video 28136 kbps 1080p / 23.976 fps / 16:9 / High Profile 4.1

AUDIO:
Codec Language Bitrate Description
––- –––– –––- –––––-
DTS-HD Master Audio English 2175 kbps 5.1 / 48 kHz / 2175 kbps / 16-bit (DTS Core: 5.1 / 48 kHz / 1509 kbps / 16-bit)
DTS-HD Master Audio French 2109 kbps 5.1 / 48 kHz / 2109 kbps / 16-bit (DTS Core: 5.1 / 48 kHz / 1509 kbps / 16-bit)

SUBTITLES:
Codec Language Bitrate Description
––- –––– –––- –––––-
Presentation Graphics English 20.879 kbps
Presentation Graphics English 0.692 kbps
Presentation Graphics English 29.469 kbps
Presentation Graphics Spanish 22.074 kbps
No More Mirrors.