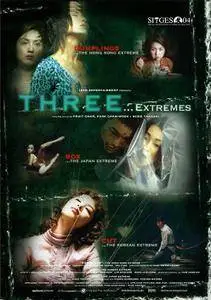 Three… Extremes (2004)
DVDRip | MP4 | 720x400 | x264 @ 1292 Kbps | 126 min | 1,25 Gb
Audio: 日本語/廣東話/한국어 AAC 2.0 @ 127 Kbps | Subs: English (embedded in MKV)
Genre: Horror
Directors:
Fruit Chan, Takashi Miike, Chan-wook Park
Writers:
Haruko Fukushima (segment), Pik Wah Lee (segment) (as Lillian Lee)
Stars:
Bai Ling, Byung-hun Lee, Kyoko Hasegawa
Three tales of terror. Exploring the outer limits of the macabre, THREE… EXTREMES is a bracing anthology of horror stories uniting three of East Asia's most compelling directors - Japanese cult figure Miike Takashi (Audition), Hong Kong's Fruit Chan (Hollywood Hong Kong, Durian Durian) and Korea's award winning Park Chan Wook (Old Boy, Sympathy for Lady Vengeance).
Dumplings:
An aging actress wishing to reclaim her youth goes to a woman who makes dumplings that supposedly have regenerative properties; however, they contain a gruesome secret ingredient.
Cut:
A successful film director and his wife are kidnapped by an extra, who forces the director to play his sadistic games. If he fails, his wife's fingers will be chopped off one by one every five minutes.
Box:
A soft spoken young woman has a bizarre recurring nightmare about being buried in a box in the snow. Searching for her long lost sister, she realizes her dreams and reality may possibly be connected.
This movie is incredibly cruel and unrelenting. It plays as a single feature divided into three sections: "Dumplings", directed by Fruit Chan of Hong Kong, "Cut" directed by Park Chan-Wook of Korea and "Box" directed by Miike Takashi of Japan. Each section is like a dissertation in horror, although "Dumplings" could also be classified as an exploitation film.

All of them are beautifully produced and directed, and I especially found "Box" to be quite lavish in sets, costumes and atmosphere. They each show a lot about the culture of the respective countries they were made in and also provide new takes on the terrifying and the appalling. They are each original in their own right, although "Cut" could be compared to the "Saw" or Hannibal Lecter franchises in that there's a psycho who's trying to get a message across by way of murder and mayhem.

I don't want to give details on the plots of any of them because I think that viewers need to experience them for themselves with no preconceptions going in, but what I can say is that "Dumplings" has the most plot and is probably the one with the highest "squeam" factor, "Cut" covers a rather familiar premise but with lots of fun moments (you'll see) and "Box" is more of an artistic endeavour with not much of a plot, but for some reason I was enthralled and couldn't look away; it's the one I liked the most.

A solid 8 out of 10 for the efforts of these genius Asian directors.
(click to enlarge)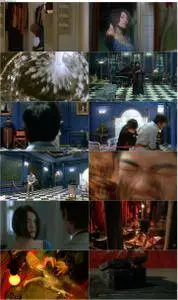 More in My Blog