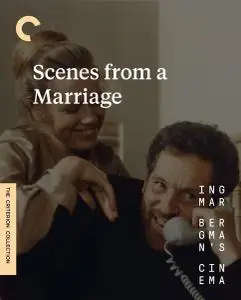 Ingmar Bergman's Cinema №07. Scenes from a Marriage / Scener ur ett äktenskap (1973) [Criterion Collection, TV Version]
Blu-Ray | BDMV | AVC, 1920x1080, ~18.7 Mbps | 4hr 59mn | 46,4 GB
Swedish (Svenska): LPCM Audio, 1 ch, 1152 kbps | Subtitles: English
Genre: Drama
IMDB Rating: 8.5/10 (13.510 votes)
Writers:
Ingmar Bergman
Stars:
Liv Ullmann, Erland Josephson, Bibi Andersson
Scenes from a Marriage chronicles the many years of love and turmoil that bind Marianne (Liv Ullmann) and Johan (Erland Josephson), tracking their relationship as it progresses through a number of successive stages: matrimony, infidelity, divorce, and subsequent partnerships. Originally conceived as a five-hour, six-part television miniseries, the film is also presented in its three-hour theatrical cut. Shot on 16 mm in intense, intimate close-ups by cinematographer Sven Nykvist and featuring flawless performances by Ullmann and Josephson, Bergman's emotional X-ray reveals the intense joys and pains of a complex bond.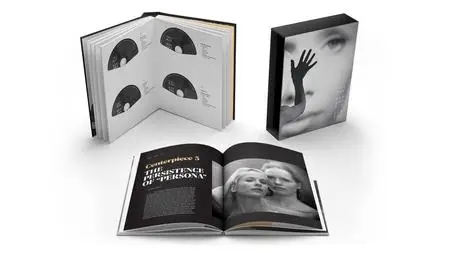 Ingmar Bergman's Cinema:
In honor of Ingmar Bergman's one hundredth birthday, the Criterion Collection is proud to present the most comprehensive collection of his films ever released on home video. One of the most revelatory voices to emerge from the postwar explosion of international art-house cinema, Bergman was a master storyteller who startled the world with his stark intensity and naked pursuit of the most profound metaphysical and spiritual questions. The struggles of faith and morality, the nature of dreams, and the agonies and ecstasies of human relationships—Bergman explored these subjects in films ranging from comedies whose lightness and complexity belie their brooding hearts to groundbreaking formal experiments and excruciatingly intimate explorations of family life.


DISC INFO:

Disc Title: ScenesFromAMarriage.73.Cr.07.TV.BR
Disc Size: 49 911 626 563 bytes
Protection: AACS
BD-Java: Yes
BDInfo: 0.5.8

PLAYLIST REPORT:

Name: 00001.MPLS
Length: 4:59:50.806 (h:m:s.ms)
Size: 49 730 912 256 bytes
Total Bitrate: 22,11 Mbps

VIDEO:

Codec Bitrate Description
––- –––- –––––-
MPEG-4 AVC Video 18712 kbps 1080p / 23,976 fps / 16:9 / High Profile 4.1

AUDIO:

Codec Language Bitrate Description
––- –––– –––- –––––-
LPCM Audio Swedish 1152 kbps 1.0 / 48 kHz / 1152 kbps / 24-bit

SUBTITLES:

Codec Language Bitrate Description
––- –––– –––- –––––-
Presentation Graphics English 53,493 kbps

FILES:

Name Time In Length Size Total Bitrate
–– –––- ––– –– ––––––-
00305.M2TS 0:00:00.000 0:52:10.377 8 645 584 896 22 095
00306.M2TS 0:52:10.377 0:41:22.646 6 764 421 120 21 797
00307.M2TS 1:33:33.024 0:51:46.144 8 466 733 056 21 806
00308.M2TS 2:25:19.168 0:51:40.972 8 508 739 584 21 951
00309.M2TS 3:17:00.141 0:51:45.143 8 890 619 904 22 906
00310.M2TS 4:08:45.285 0:51:05.520 8 454 813 696 22 064


Extras:
- None
All thanks to the original uploader